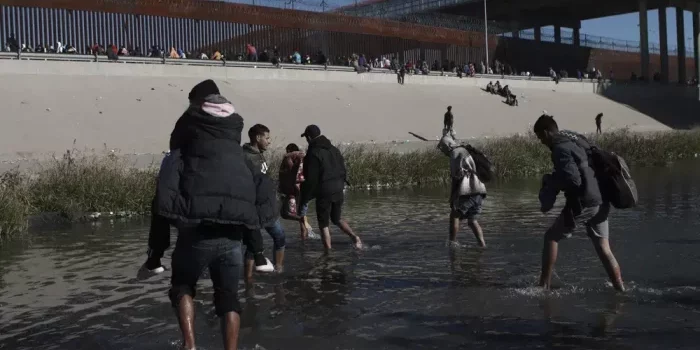 (Luis Cornelio, Headline USA) New Jersey Democrat Gov. Phil Murphy has taken a firm stance against President Joe Biden's request to take in illegal aliens from an already flooded New York City.  
Murphy expressed serious concerns about the feasibility of such a move, citing the inability of the state to handle the additional influx of immigrants, going as far as saying he won't allow his state to turn into a "wild west." 
"I don't see any scenario where we're gonna be able to take in a program in Atlantic City or, frankly, elsewhere in the state," Murphy lambasted during a press conference.  
The fed-up Democrat stressed the need for the Biden administration to address the ongoing border crisis comprehensively before requesting further assistance from states, reported NJ.com.
"We are already seeing folks in New Jersey that have probably swelled into New Jersey from New York or other locations, but you need scale, an enormous amount of federal support, resources that go beyond anything we can afford," Murphy continued. "Putting everything else aside, I just don't see it. I would suspect that'll continue to be the case." 
Biden's contentious proposal, outlined in a letter to New York City Mayor Eric Adams, identified 11 federal locations, including the NJ Atlantic City International Airport, as potential housing sites for illegal aliens and asylum seekers.  
In previous weeks, Adams warned that NYC had already been overwhelmed with over 100,000 such individuals. 
Murphy defended his position by highlighting the measures already taken by his administration to protect vulnerable immigrant communities in New Jersey. 
The governor stated, "We've always been a nation of immigrants, but that doesn't mean it can be the Wild West." 
A top state Republican also ripped the idea, emphasizing the need to prevent the Biden administration from passing the responsibility onto New Jersey. 
"[W]e must stop the Biden administration from exacerbating the humanitarian crisis that they created by passing the buck on to New Jersey from New York City," remarked State Senate Majority Leader Anthony Bucco, according to NJ.com. "New Jersey cannot afford to be the backstop for New York City's failure to house migrants as a sanctuary city." 
Murphy's rebuke of Biden's plan comes amid scathing concerns raised by former New York Governor David Paterson, who warned of a potential "revolt" between cities and the federal government regarding the handling of illegal immigration.