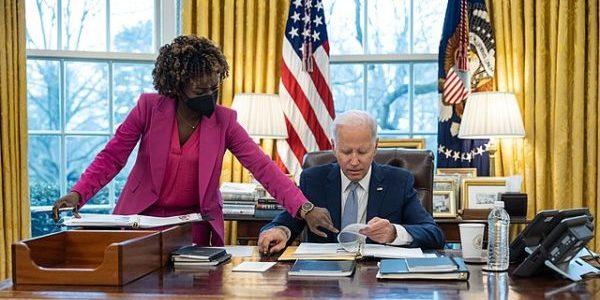 (Mark Pellin, Headline USA) The chief spokesperson responsible for crafting the public image of President Joe Biden as a leader with a clear and winning plan for America was left flummoxed and fuming when asked to define "the Biden brand." 
The topic surfaced during a Monday press briefing, when White House mouthpiece Karine Jean-Pierre was asked a series of questions that focused on First Son Hunter Biden reportedly peddling his father's influence and the "Biden brand" as part of an ongoing multi-million-dollar corruption and bribery scheme.
It started with a question from Fox News White House correspondent Peter Doocy asking for clarification about how Hunter was footing the bill for the $15,800-a-month rent on his new Malibu mansion.
Noting reports that Hunter was supposedly selling his art to pay the tab, Doocy asked, "How can he guarantee that people are not going to be buying this art to gain favor with the president?"
The White House maintained its refusal to answer questions about the president's son, regardless of how closely they impact Biden, and insisted that was a question "for Hunter Biden and his representatives," Jean-Pierre said.
"It's a question of ethics at the White House. We know one of the art buyers got a job from the Biden administration. Can you guarantee there's no quid pro quo?" Doocy asked.
"I hear you. I hear your question. I'm just not going to get involved in this. That is a question for Hunter Biden's representatives," she answered.
Given the potential that Biden boosters are buying Hunter's art simply because of its Biden brand, Doocy asked about the president's son using it further their alleged corruption enterprises.
"We know from a Hunter Biden associate now that he sold the appearance of access to then-Vice President Biden," Doocey said in reference to the damning Congressional testimony provided by Devon Archer.
The former Biden business partner told the House Oversight Committee that Hunter regularly tossed around the "Biden brand" as intimidation and influence to further their schemes. Archer also testified that Joe Biden actively participated in business dealings with Ukraine energy company Burisma, joining at least 20 official business meetings with Hunter and Archer via speakerphone.
"Are you confident that he has stopped doing that?" Doocy asked. Instead of providing an answer, Jean-Pierre claimed that, too, was a question for Hunter's representative.
"If somebody is selling the appearance of access to the White House, that is a question for the White House," Doocy responded.
"No, that is your, your — I don't know — how you're perceiving that," she said, and when Doocy reminded that actually it was "from sworn testimony from Devon Archer," the spokesperson shut down the question.
"I am just not, Peter, I'm just not going to get into this. I'm just not," Jean-Pierre said.
Referring again to that pesky sworn testimony, Doocy asked specifically about the so-called Biden brand.
"Devon Archer talks about how he and Hunter Biden tried to profit off the Biden brand. What is the Biden brand?" he asked.
"I'm not going to get into it from here. I'm not going to get into it from here. We're gonna move on," the insurrectionist press secretary said.
Mark Pellin is an editor at Headline USA. Follow him at twitter.com/sabrepaw70.