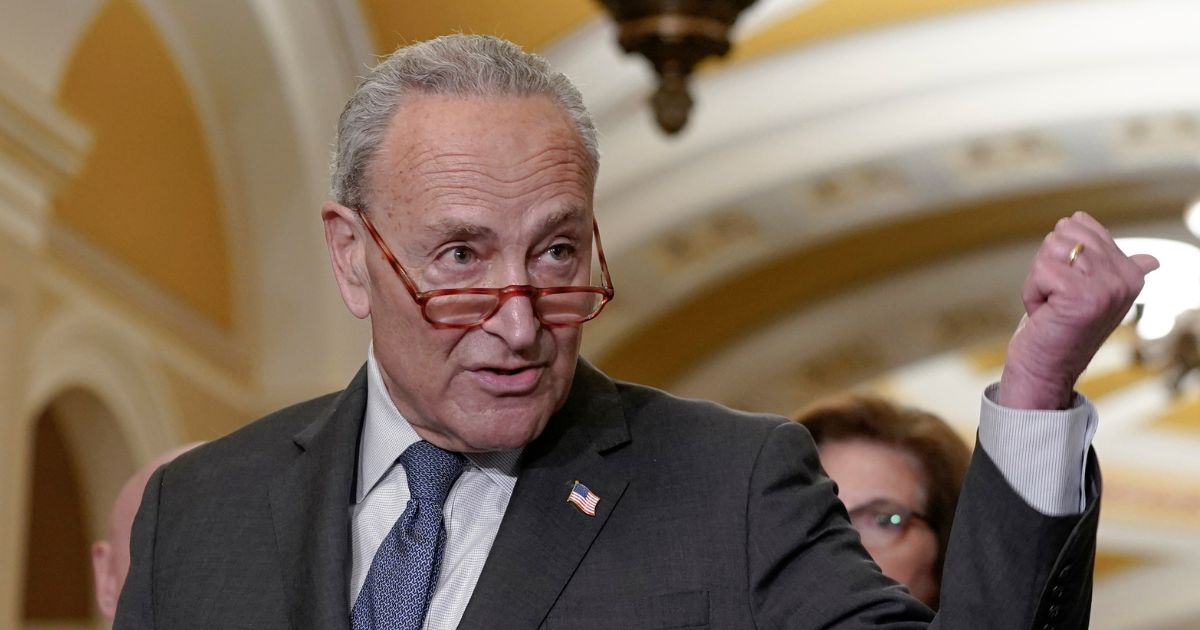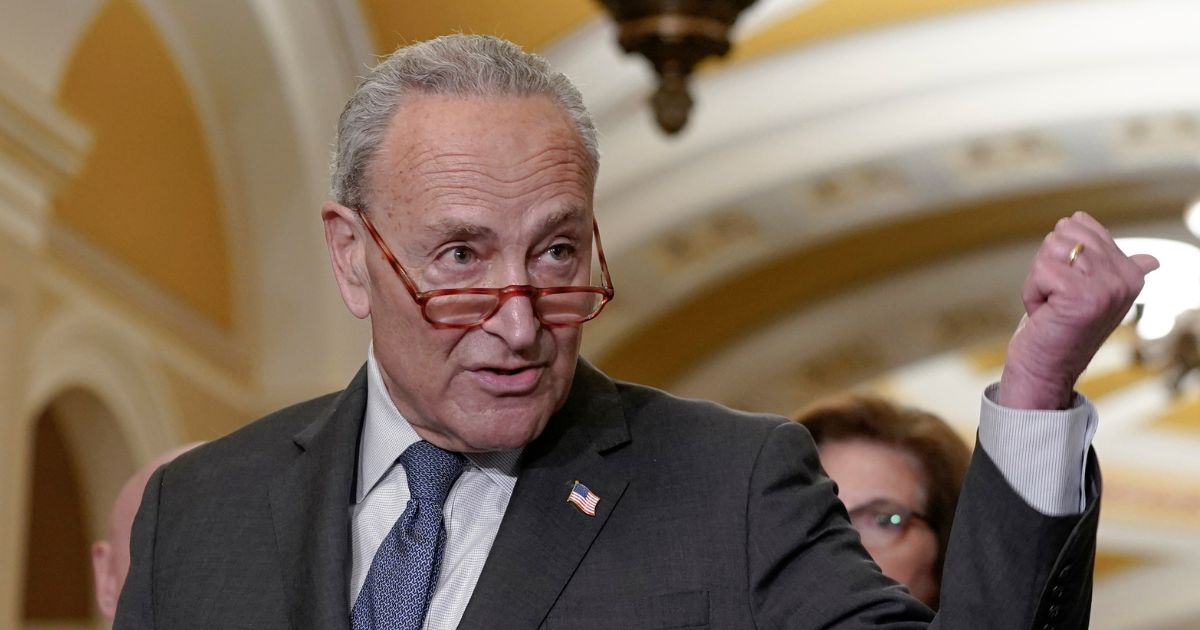 Sen. Chuck Schumer may be sponsoring legislation that targets a super PAC that engages in just the type of behavior the Senate majority leaders claims to disdain.
The New York Democrat has co-sponsored the DISCLOSE Act that he claimed will "fight the cancer of dark money in our elections."
Meanwhile, Senate Majority PAC — a political action committee closely aligned with Schumer — has "accepted over $81 million between 2021 and 2023 from Majority Forward, a dark money nonprofit group boosting Democratic candidates," according to the Washington Examiner.
I'm announcing that the Senate will vote this week on the DISCLOSE Act.

This bill would fight the cancer of dark money in our elections and require dark money groups to report campaign contributions.

Americans deserve to know who's spending billions to sway our democracy.

— Chuck Schumer (@SenSchumer) September 19, 2022
Trending:
Georgia Court Website Posts Document with 13 Charges Against Trump – And Then Deletes It
Schumer's rhetoric on the subject has implied that "dark money" funds only Republican Party politics, such as in this tweet from earlier in 2022:
The examples of MLK, of John Lewis give us strength and show us sometimes the only right option is to move forward

With Trump
his Big Lie
Jan. 6
voter suppression
dark money interests fueling today's GOP

This is a fight for the soul of America

And we will not shy away from it

— Chuck Schumer (@SenSchumer) January 20, 2022
However, Majority Forward has provided the Democrat-supporting Senate Majority PAC $136 million since 2015, according to federal records cited by the Examiner.
Do you think Democrats will hold their majority in the Senate?
Yes: 8% (10 Votes)
No: 92% (117 Votes)
And the two organizations are more closely aligned than even that figure would imply, according to the Examiner.
"Majority Forward has counted its president as Senate Majority PAC head J.B. Poersch, and the two entities share personnel and office space," the outlet reported. "Moreover, Senate Majority PAC has been paid by Majority Forward for insurance, IT security, and salaries, campaign finance disclosures show."
The bill would require super PACs and other nonprofit organizations to disclose the names of any donors who give them more than $10,000.
Opponents, however, argue that the bill is unnecessary, even if it does target some of Schumer's own party supporters.
"There's nothing wrong with so-called dark money — the American political system owes its existence to anonymous political speech," Tom Jones, president of the conservative American Accountability Foundation watchdog group, told the Examiner.
Related:
Senator Calls on FDA to Investigate New Drinks: 'Not Recommended for Children Under 18'
"What is wrong — and frankly embarrassing — is Senators Schumer and Whitehouse blathering on about the boogeyman of dark money one day and using it to prop up their majority the next," he added.
The bill, sponsored by Rhode Island Democrat Sheldon Whitehouse and co-sponsored by the other 47 Democrats and all three of the independents who typically caucus with them, claims its purpose to be "To amend the Federal Election Campaign Act of 1971 to provide for additional disclosure requirements for corporations, labor organizations, Super PACs and other entities, and for other purposes."
Its full name, in typical D.C. fashion, is the "Democracy Is Strengthened by Casting Light On Spending in Elections Act of 2023," though it is generally simply referred to as the "DISCLOSE Act of 2023."
The full text of the DISCLOSE Act is available below.
Disclose Act by The Western Journal
"Democrats claim to hate dark money, but cycle after cycle, they line their pockets with it to fund their radical and out-of-touch candidates," National Republican Senatorial Committee spokesman Tate Mitchell told the Examiner.
We are committed to truth and accuracy in all of our journalism. Read our editorial standards. Facebook
Facebook
Share on Facebook
Twitter
Twitter
Tweet
Telegram
Share
Truth Social
Share
Gettr
Share
Email
Email
Share MoreShare
SummaryMore Biographical InformationRecent PostsContact
George Upper is the former Editor-in-Chief of The Western Journal and was a weekly co-host of "WJ Live," powered by The Western Journal. He is currently a contributing editor in the areas of faith, politics and culture. A former U.S. Army special operator, teacher and consultant, he is a lifetime member of the NRA and an active volunteer leader in his church. Born in Foxborough, Massachusetts, he has lived most of his life in central North Carolina.
George Upper, is the former editor-in-chief of The Western Journal and is now a contributing editor in the areas of faith, politics and culture. He currently serves as the connections pastor at Awestruck Church in Greensboro, North Carolina. He is a former U.S. Army special operator, teacher, manager and consultant. Born in Massachusetts, he graduated from Foxborough High School before joining the Army and spending most of the next three years at Fort Bragg. He holds bachelor's and master's degrees in English as well as a Master's in Business Administration, all from the University of North Carolina at Greensboro. He and his wife life only a short drive from his three children, their spouses and his grandchildren. He is a lifetime member of the NRA and in his spare time he shoots, reads a lot of Lawrence Block and John D. MacDonald, and watches Bruce Campbell movies. He is a fan of individual freedom, Tommy Bahama, fine-point G-2 pens and the Oxford comma.
Birthplace
Foxborough, Massachusetts
Nationality
American
Honors/Awards
Beta Gamma Sigma
Education
B.A., English, UNCG; M.A., English, UNCG; MBA, UNCG
Location
North Carolina
Languages Spoken
English
Topics of Expertise
Faith, Business, Leadership and Management, Military, Politics
Source
Source