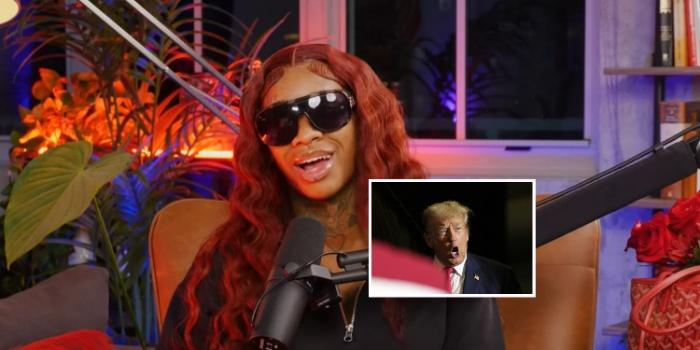 (Luis Cornelio, Headline USA) Viral hip-hop sensation Sexxy Red has voiced her support for former President Donald Trump and called for his return to the White House during an interview with comedian and podcast host Theo Von. 
In the interview, Red attributed her Trump support to his political agenda for black Americans.  "I like Trump! Yeah, they support him in the hood," she said. "Cause at first, I don't think people was fuckin' with him. Like, they thought he was racist, saying little shit, and, you know, against women. But once he start getting black people out of jail and giving people their free money…oh baby we love Trump. We need him back in office."
sexyy red speaks on donald trump pic.twitter.com/IMqEgAlPis

— (@SSZEXXYY) October 3, 2023
Red first gained widespread recognition earlier this year with her hit song Pound Town. The song, which include the widely quoted "My coochie pink, my booty-hole brown," even received a remix from the popular rapper Nicki Minaj. She has headlined popular music festivals and has performed in numerous hip-hop awards. 
When Von mentioned the impact of stimulus checks, Red enthusiastically agreed, "We need him back. Because, baby them checks. Ooh, yes them stimulus checks." She also added, "Trump we miss you."
Her support for Trump continued as she highlighted Trump's bold personality. 
"I love Trump, though. He funny to me. Like, I used to watch his interviews. Well, not interviews, him talking to people. He used to be calling people 'fat.' He's just bold. He funny. Like, we need people like him," she continued. 
Red's endorsement of Trump comes at a time when President Joe Biden is facing scrutiny amid an impeachment inquiry scandal involving allegations of bribery and political corruption.
Biden, who is running for re-election and could potentially face Trump in the 2024 election, has seen his support among black voters decline significantly. Notably, Biden came under scrutiny when he questioned black support for Trump, claiming, "If you have a problem figuring out whether you're for me or Trump, then you ain't black." 
Biden received 70% of the black and Hispanic vote during the last election. However, a recent New York Times poll, suggests that Biden's support among non-white voters has dropped to an average of 47%. Meanwhile, Trump has managed to win over 5% of former Biden voters.
Just on Oct. 1, Trump touted the increasing support from minority voters during a rally in Iowa. "By the way, a poll just came out. We're leading with women with suburban women, with men, with black, with white, with Asian [and] with Hispanic," he said. "We're leading with minority groups. We're leading with that have never nobody's ever even come close and In particular, the Hispanics, it's unbelievable.
When @cthagod interviewed Joe Biden in 2020, Biden said, "If you have a problem figuring out whether you're for me or Trump, then you ain't black."

Instead of pushing back on Biden's racist comment, Charlamagne ignored it. I called him out on it today on @breakfastclubam. pic.twitter.com/SgAjItSy6v

— Larry Elder (@larryelder) August 17, 2023