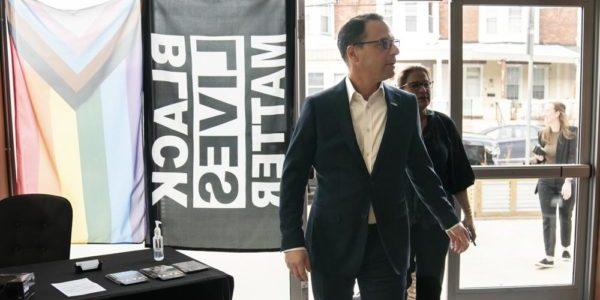 (Luis Cornelio, Headline USA) The Pennsylvania Democratic Party finds itself in disarray just months before a crucial election, prompting concerns among party members and strategists alike.
A lengthy Politico report, released on Friday, exposed a litany of issues plaguing the party, including financial woes and staff layoffs. The state party's troubles come as GOP front-runner Donald Trump eyes a heavy campaign presence in Pennsylvania.
One humiliating misstep that has baffled many is the distribution of thousands of voter information cards that erroneously stated the election date as November 8, when in fact, it is November 7.
This blunder has left many scratching their heads, with one state committee member dubbing it "amateur hour," and another former party official bluntly saying, "It's a fucking disaster."
Financial troubles are also haunting the state party, as it had to fire several employees in July, according to Politico. One of its political action committees reportedly had a meager $7,500 in funds. This has raised concerns about their ability to fundraise effectively, especially with the 2024 presidential election looming. The state party went as far as firing its fundraising arm.
"It's concerning that the state party is laying people off as we're heading into a really important Supreme Court race, which then leads into the presidential year," said Mike Mikus, a Democratic consultant, in an interview with Politico.
Trump's interest in Pennsylvania is only adding to the pressure miring the struggling Democrats. Trump, the leading GOP candidate for the 2024 presidential race, has intensified his focus on the state, which he won in 2016 but allegedly lost to Joe Biden in 2020.
Trump held two rallies in Pennsylvania in June 2023. The first was a massive 4,000 people rally in Erie, Pennsylvania, and the second was a speech at the Moms for Liberty conference in Philadelphia.
"Has that city gone to hell or what?" Trump said referring to Philadelphia. "Now it's so dangerous you can't walk outside to buy a loaf of bread. It's horrible. It's horrible what happened."
Trump's focus on the state hasn't gone unnoticed. As reported by Politico, Democrat strategists fear that if corrective measures aren't taken promptly, Pennsylvania could swing Republican in upcoming elections. A senior Pennsylvania Democrat elected official criticized the party's leadership, describing it as "incompetent" and "clueless."
Despite the turmoil within the Pennsylvania Democrat Party, President Joe Biden's DOJ is prosecuting Trump's efforts to challenge the 2020 election results in the state, charges that many Republicans deem as political interference.