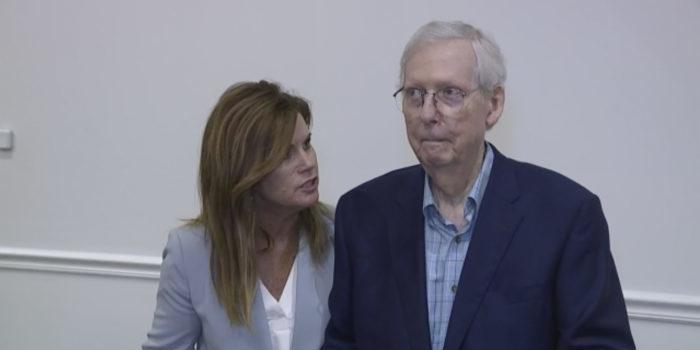 (Luis Cornelio, Headline USA) Senate Minority Leader Mitch McConnell, R-Ky., is facing intense scrutiny from prominent leaders following his disturbing mental freeze on Wednesday. 
McConnell, 81, halted his address mid-sentence during a Kentucky press conference. In a now-viral video, McConnell's eyes appeared to freeze and stare blanky for about 20 seconds, reigniting concerns about his fitness for office and prompting calls for his immediate resignation. 
Collin Rugg, co-founder of Trending Politics, took to Twitter on Wednesday to voice scorching criticism. "America is quickly becoming a country controlled by power hungry grandparents who refuse to give up their power," he said before drawing attention to McConnell's $35 million net worth. 
Twitter personality "Travis_in_Flint" expressed embarrassment over McConnell's leadership and questioned his ability to govern effectively.
"We are a national embarrassment," he said. "These people are running our country into the ground. How are we still allowing this? Mitch McConnell isn't even fit enough to answer questions, but he leads the Senate Republicans. Why would anyone vote for this?"
In contrast, Biden rushed to defend McConnell in statements to NBC News. "Mitch is a friend, as you know — not a joke. … I know people don't believe that the case, but we have disagreements politically, but he's a good friend," Biden said after speaking about Hurricane Idalia and the Hawaii wildfires.
McConnell in recent weeks cautioned House Republicans not to impeach Biden amid growing evidence of alleged corruption and bribery.
However, prominent voices continued to call for McConnell's resignation. Outkick host Clay Travis and commentator Mark Levin both opined that McConnell should step down from his leadership role within the Senate GOP due to his apparent health issues.  
"Mitch McConnell isn't well. Joe Biden isn't well. Dianne Feinstein isn't well. John Fetterman isn't well. This is all just very sad," Travis stated before demanding age limits. Levin's stance was clear: "Time for Senate GOP to remove McConnell from leadership."
Time for Senate GOP to remove McConnell from leadershiphttps://t.co/jA9DgjdA1c

— Mark R. Levin (@marklevinshow) August 30, 2023
Comedian and Trump supporter Terrence Williams echoed this sentiment, highlighting the lack of immediate medical assistance during the episode.  
"It's time for Mitch McConnell to go," Williams proclaimed. "This is sad to see. He is not fit to stand up or lead the GOP. These people are sick."