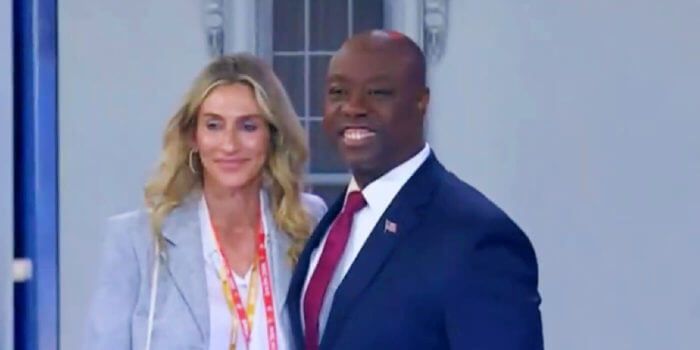 (Jacob Bruns, Headline USA) After recent media speculation that his girlfriend was a contrivance of his imagination—or an outright lie—Republican presidential hopeful Sen. Tim Scott, R-S.C., proved her existence by bringing her onstage after Wednesday night's presidential debate, the New York Post reported.
Only one U.S. president in American history—James Buchanan—has been a bachelor, and despite rumors and innuendo enshrouding everyone from Abraham Lincoln to Barack Obama, no president to date has been openly gay.
Given the dominance of married men in the history of the executive office for the past 139 years, many  naturally questioned Scott's dating status, particularly since the Republican Party is the party of family values.
The 58-year-old South Carolinian has never been married, and he was believed to be single until he mentioned his girlfriend in passing last May.
Further complicating matters, Scott's campaign manager, Jennifer DeCasper, has repeatedly insisted since that time that Scott is single, despite his own claims to have a girlfriend.
When asked by a potential voter why Scott's girlfriend never attends campaign rallies, DeCasper stated: "That's because he's single."
But now, Scott has brought forward the—or at least a—mystery woman.
Amid rumored threats from donors to pull their funding if he did not produce a potential first lady, Scott was joined onstage after the debate by a certain Mindy Noce, who is reported to be Scott's girlfriend.
The senator described his girlfriend—a Charleston-based design and renovation consultant and the mom of three kids—as "a lovely Christian girl" that he met through a friend from church.
After the debate, Scott told ABC News that Noce has been around for months.
"She was at my kickoff when I announced my candidacy back in May," he said.
"So the good news is we continue to have a healthy relationship; thankfully, both love the Lord and have a healthy respect for one another; and, I tell you, we have a lot of fun together."
In response to the odd situation, the Washington Post previously ran a lengthy article inquiring into Scott's love life and exploring if voters still found being married important in a post-Epstein Island era.
"I think 10 or 20 years ago, people had a kind of romance with the first family," Bob Vander Plaats, the head of the Family Leader, a social conservative organization in Iowa, told the Post, adding that being married is no longer essential for being a viable candidate.
Still, for Scott's campaign, it will be important to get every vote possible in a race that will likely be dominated by former President Donald Trump, himself a three-time groom.