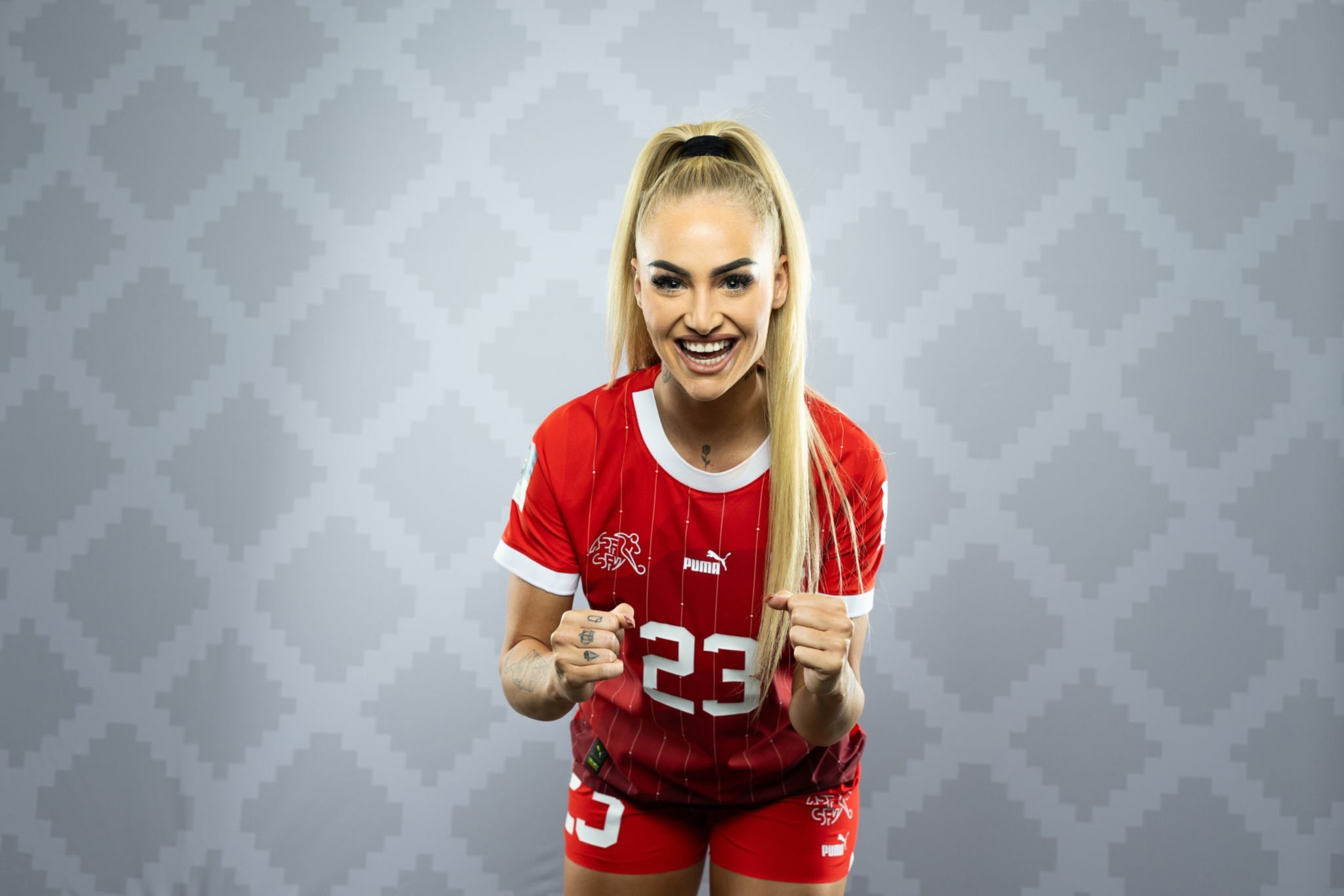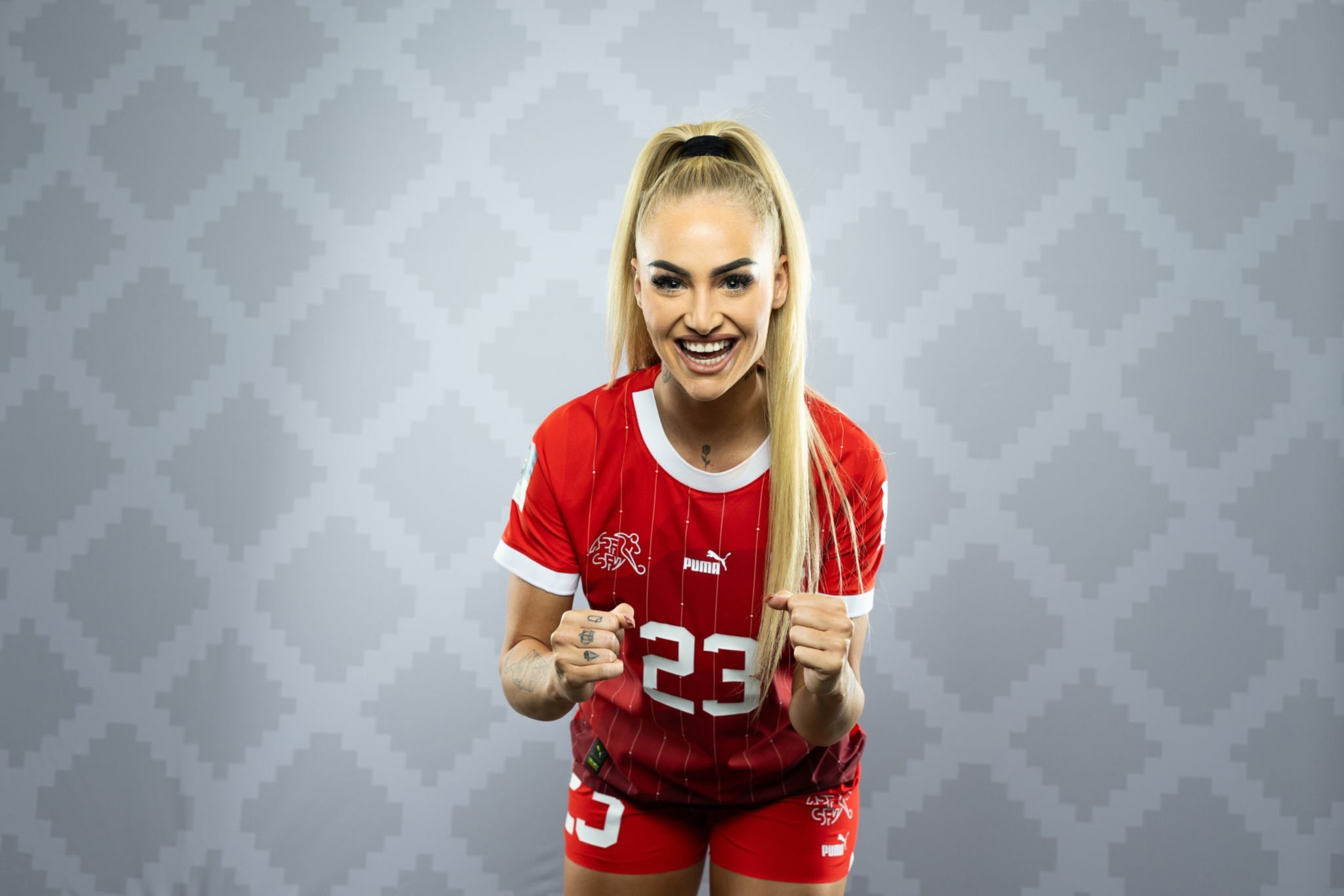 On Friday, Alisha Lehmann, the Swiss soccer forward, marked her debut in a Women's World Cup match as her team secured a 2-0 victory against the Philippines in the opening round of group play.
Lehmann, renowned as one of the most popular female soccer athletes participating in the Women's World Cup, encountered an unusual request from one of the enthusiastic fans who filled Dunedin Stadium in New Zealand.
A fan in the crowd held up a sign that read, "Alisha Lehmann can I get your (shirt)," along with a picture of Lehmann's No. 23 jersey. Whether Lehmann fulfilled the request remains uncertain, but the hopeful fan might have another chance as Switzerland faces Norway on Tuesday.
Swiss soccer star Alisha Lehmann gets bizarre 'shirt' request at Women's World Cup https://t.co/Dokj8N7h6Y pic.twitter.com/bcC3TIdwfy

— New York Post (@nypost) July 21, 2023
Lehmann's popularity is evident from her massive following of over 13 million on Instagram. Her impressive performances played a vital role in Switzerland's qualification for the Women's World Cup, where she netted two crucial goals during the qualifiers. Additionally, she showcased her talent in 22 matches for Aston Villa in the Women's Super League, contributing five goals and two assists during the 2022-23 season.
Earlier this month, she shared her excitement about the upcoming tournament in an interview with Sky Sports.
"When you play for your country, you remember where you came from," she said. "You have the badge of your country on your shirt, it means a lot.
"I actually can't wait to play this World Cup. I was waiting all my life to do this because it's the biggest thing when you're a kid. You dream about the big World Cup and playing it.
"It's the biggest dream of every single footballer. It's amazing, and I can't wait to be on the field and start it."
On Sunday, Switzerland will conclude their group stage matches with a match against New Zealand.
We all know the tournament really starts tomorrow???? pic.twitter.com/vBva9yzY31

— Dan ???????? ???????? ???????? ???????? (@DanielFC107) July 20, 2023
Trending Political News
Sophia Vergara Gets the Cheeks Out Just Before 51st Birthday
Sofia Vergara won't be dealing with tan lines any time soon.
The eminent judge of "America's Got Talent", now 50 years old, gave her vast number of social media fans a brief glimpse into her life, sharing pictures from her serene day soaking up the sunshine.
Continue reading…
'Clueless' Star Says She's No Longer a Democrat, Announces Who She's Backing in 2024
On Wednesday, Alicia Silverstone, a renowned actress, declared her support for Robert F. Kennedy Jr., a leading contender for the Democratic nomination in 2024 and a prominent adversary of Biden. Simultaneously, she expressed her disillusionment with the Democratic Party.
"Last year, I cancelled my Democratic Party registration and registered as an Independent voter," Silverstone wrote on Instagram. "Like many others, I am deeply disappointed with political leadership at every turn."
Continue reading…
Salma Hayek Leaves Little to the Imagination on 'National Bikini Day'
Salma Hayek is turning up the heat this summer.
The radiant 56-year-old showcased her charm in a swimsuit, marking National Bikini Day with her latest enticing snapshot.
Continue reading…
McDonald's New Shake Is Going Completely Viral
Recently, McDonald's made headlines with a new menu item, the Grimace Shake, characterized by its vibrant purple hue. This shake has taken TikTok by storm, with Gen Z users infatuated with consuming the shake and theatrically pretending to meet their demise in increasingly amusing manners.
To my slight chagrin, I must confess I've developed a fondness for these videos, despite not being an avid user of TikTok, likely due to age. My younger siblings, who are both significantly younger than me, are perennial TikTok enthusiasts.
Continue reading…
Teacher Fired After Wanting Students to Sing Dolly Parton Song
Melissa Tempel, a first-grade teacher, was dismissed by a school board in Wisconsin on Wednesday, following her attempt to incorporate "Rainbowland," a song by Miley Cyrus and Dolly Parton, into a concert last March.
"Rainbowland" portrays an imaginary world where unity and peace are prevalent.
Continue reading…
Another Costco Item Goes Viral, Sparking Debate Among Shoppers
Costco Wholesale might be renowned for its vast range of bulk-buy groceries, yet the membership-based warehouse club's offerings extend well beyond edibles and pantry staples.
Recently, a sectional sofa from Costco, complete with a pull-out sleeper and a storage section, has caught the attention of social media users, inciting both adulation and controversy.
Continue reading…
Source