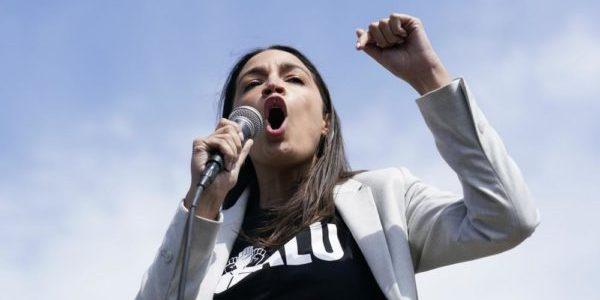 (Luis Cornelio, Headline USA) In a chaotic press conference on Friday, Reps. Alexandria Ocasio-Cortez and Jerry Nadler, along with other Democrat lawmakers of New York, were met with angry protesters demanding action against the unprecedented influx of illegal aliens in the city.
"Send them back!" shouted Jonathan Rinaldi, a Queens City Council candidate, as he joined a crowd of protesters who disrupted the press conference. Signs held by some protesters read, "Americans first: Vetted & legal migrants only."
The protesters' frustration came on the heels of a visit by Democrat lawmakers to an emergency shelter in midtown Manhattan, which has seen a surge in illegal immigration, resulting in increased trash and crime in the area. 
"What we seek to do is to make sure that all the resources are necessary and that we are joining with the city and state," Ocasio-Cortez said before the protest erupted. However, her attempts to address the situation were repeatedly interrupted by a man using a megaphone who shouted, "Illegal immigration is not right! Respect the constitution, close the border."
In the same speech, Ocasio-Cortez claimed that work authorizations could solve the crisis, ignoring that such policies have ignited a surges of illegal aliens in the past, the Heritage Foundation reported.
Another protestor chimed in, shouting. "Close the border! Close the border! Respect the constitution AOC. I am your constituent."
Protesters in Manhattan heckled a pro-migrant press conference by Democrat politicians in front of the Roosevelt Hotel, which has become a migrant center. Congresswoman AOC was one of the speakers. pic.twitter.com/bkRNeEL9hV

— Andy Ngô ️‍ (@MrAndyNgo) September 15, 2023
The lawmakers' visit and the ensuing protests followed New York City Mayor Eric Adams's scathing criticism of the Biden administration for failing to address the ever-worsening border crisis.  
Adams warned that the crush of illegal aliens could cost taxpayers up to $12 billion over the course of three years. 
"Let me tell you something New Yorkers, never in my life have I had a problem that I did not see an ending to — I don't see an ending to this," Adams said on Sept. 7. "This issue will destroy New York City."