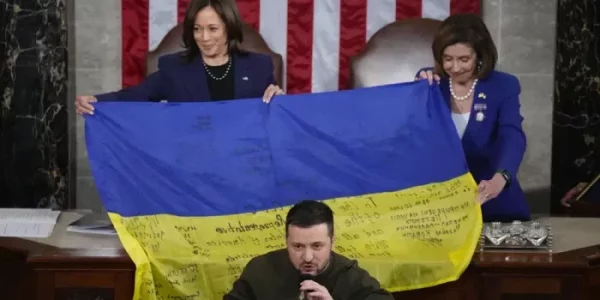 (Mark Pellin, Headline USA) Following signals from the White House to continue endless and limitless funding for the president's proxy war with Russia, Senate Democrats have threatened to withhold disaster aid for wildfire-ravaged Maui unless it is coupled with at least $25 billion more for Ukraine.
Sen. Kelly Duckworth, D-Ill., said Friday that she would block a proposal to approve funding for emergency disaster aid on its own, without being tied to President Joe Biden's demand for an additional round of funding for Ukraine, to the tune of $25 billion.
"I would," Duckworth reportedly said about blocking the disaster aid package. "I think it's important to include Ukrainian funding."
Senate Democrats following Biden's marching orders to hold disaster relief aid hostage could wreak havoc not only for Maui wildfire survivors, but also states left reeling from Hurricane Idalia. The insidious plot left Republicans fuming, after watching the Biden regime literally snooze and snub its way through a response to the Hawaii disaster.
"American priorities must be FIRST. Which is why I stand against linking ANY Ukraine funding to any border security or disaster aid," tweeted Rep. Cory Mills, R-Fla., who noted that "Hawaii just experienced it's most deadly disaster with the Maui fires" and that "Florida is still recovering from Hurricane Ian and taking on new damages from Hurricane Idalia."
FEMA officials earlier this week said they were prioritizing its remaining $3.4 billion budget for the aftermath of those two disasters, but anticipated needing billons more for those recovery efforts and others likely to hit. Biden had requested an additional $12 billion earlier this month for disaster relief, but specifically made its approval dependent on co-passage of $25 billion for Ukraine, according to the Hawaii Tribune-Herald.
Amazing: Senate Democrats are blocking disaster aid from the US Government for American citizens in dire need unless it also includes the billions more for the war in Ukraine that the Biden WH wants.

Such a perfect microcosm of this party. https://t.co/0yc83tOmh7

— Glenn Greenwald (@ggreenwald) September 1, 2023
The uniter-in-chief made it clear this week that he expected Democrats to back his play in holding the Maui funds hostage, and blaming Republicans if they balk at paying a ransom of more blood money for Ukraine.
"How can we not respond? My God. How can we not respond to these needs?" Biden said Wednesday, after actively ignoring Maui survivors and offering them a pittance of $700 per household for emergency relief.
"So I'm confident, even though there's a lot of talk from some of our friends up on the Hill about the cost, we have to do it," Biden said, referring to Republican lawmakers and their constituents who have grown weary of funding Biden's war.
With a hurricane battering Florida's coast and ripping through southern states, Sen. Rick Scott, R-Fla., has proposed an independent emergency aid package to be approved separate from the Ukrainian funding.
"No matter how anybody feels about Ukraine funding, those two things should never be one for the other," said Florida Sen. Marco Rubio, a Republican who has supported funding the war. "When it comes to taking care of Americans in harm, that should be priority."
Hundreds of Americans are still missing in Maui.

A Cat 3 hurricane is battering Florida.

FEMA disaster funding shortage is weeks away.

Meanwhile, the Biden Administration is sending a new $250,000,000.00 aid package to Ukraine.

— Jackson Lahmeyer (@JacksonLahmeyer) August 30, 2023
Mark Pellin is an editor at Headline USA. Follow him at twitter.com/sabrepaw70.