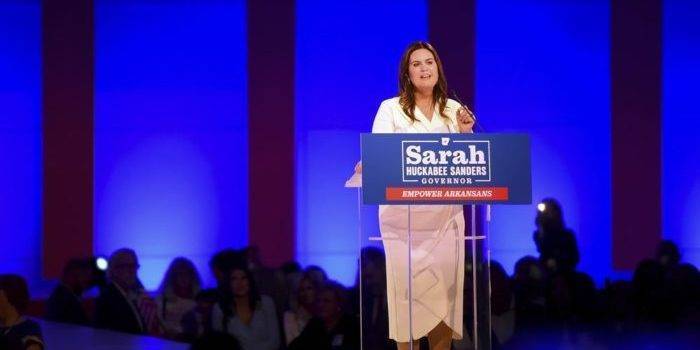 (Jacob Bruns, Headline USA) The day after Iowa Gov. Kim Reynolds endorsed Florida Gov. Ron DeSantis for president, Sarah Huckabee Sanders endorsed former president Donald Trump, CNN reported Monday.
While Reynolds' endorsement may be a boost for DeSantis, Sanders dampened the effect by announcing her endorsement 24 hours later.
She told the press that she endorsed Trump because the forthcoming election may have existential consequences, and he is the most likely to win.
"It's not a question between right versus left anymore," Sanders noted, adding that the main focus should be defeating Democrats.
"It's normal versus crazy, and President Biden and the left are doubling down on crazy. The time has come to return to the normal policies of the Trump era which created a safer, stronger, and more prosperous America, and that's why I am proud to endorse Donald Trump for President," she said.
Sanders previously served as Trump's White House press secretary, and has routinely defended the former president in the face of a media onslaught.
"I couldn't be prouder to have the opportunity to serve my country and particularly to work for this president," Sanders said when her time as press secretary ended. "I've loved every minute – even the hard minutes."
Trump released a statement in the wake of Sanders' announcement, calling it an "honor" to have Sanders' endorsement.
"I look forward to having her at the big rally in Hialeah this Wednesday," he said.
Trump and his campaign also had harsh words for Reynolds, whom he had previously supported and helped get elected.
"I opened the position for Reynolds," Trump wrote on Truth Social soon after Reynolds endorsed his opponent.
"I then helped her when she was substantially down and losing to the Democrat Candidate, and worked hard to get her Elected, including an Endorsement and Big TRUMP Rallies," he continued.
As a result, he called the move "the end of her political career," just as his campaign is, for Trump, the end of DeSantis' career, he said.