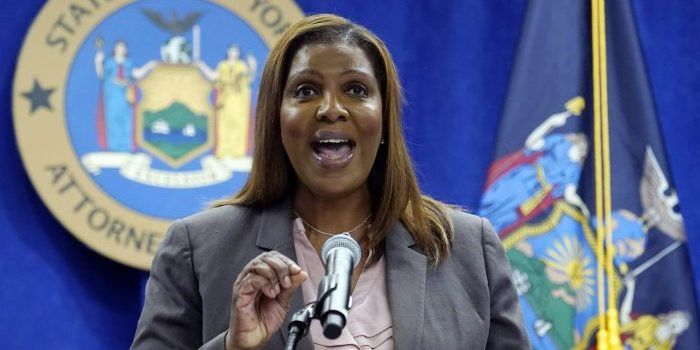 (Luis Cornelio, Headline USA) New York Attorney General Letitia James has found herself facing backlash after releasing yet another legal attack against the Trump Organization. 
In preparation for a civil trial scheduled for October, James claimed that former President Donald J. Trump and his family had allegedly overinflated their finances by billions of dollars since 2011. 
The attorney general specifically pointed out that Trump had purportedly increased his net worth by an annual average of $812 million to $2.2 billion over the span of 10 years. James's civil case against Trump is separate from the four existing indictment cases against the leading GOP candidate for president.
They don't know what else to come up with at this point mate🤦‍️🤦‍️🤦‍️

— Sergio (@SaitaSerg) August 30, 2023
Despite the allegations brought to light by James, she quickly came under intense scrutiny from various quarters. On the Monday edition of Fox and Friends, host Brian Kilmeade accused James of "playing politics" by forcing Trump to appear on trial. 
Political commentator Mercedes Schlapp echoed Kilmeade on Wednesday. During a segment on the alleged corruption embroiled President Joe Biden.  
"When you look at the Democrats, they went forward aggressively against the Trump organization and the Trump family," Schlapp said before blasting law enforcement for turning a blind eye to Biden emails where he used three different aliases.   
Political commentator Charles Downs took to Twitter to criticize James for her perceived shift from allowing "lawlessness to reign in the NYC streets" in 2020 to leading what he called "witch hunts" against Trump and his supporters. 
Skepticism grew bigger from Trump supporters, with Sergio Saita expressing a sentiment that the allegations were reaching a point of incredulity. "They don't know what else to come up with at this point mate," Saita said on Twitter. 
Another user questioned the legitimacy of James's prosecution, implying a potential political motivation and highlighting her attempt to link the case to a federal one rejected by the DOJ.
Her entirely politically motivated and fabricated prosecution should quickly be over with a dismissal.

She's trying to tie this to a federal case the DOJ rejected to raise it to a felony.

— Charles Lee 1911 (@Charles07788205) August 30, 2023
Even the aspect of race entered the conversation, with one Twitter account, DreamWeaver, suggesting a racial angle by questioning whether the district attorneys involved in bringing charges against Trump were disproportionately black. "It's starting to appear to be a racial attack," the account said.