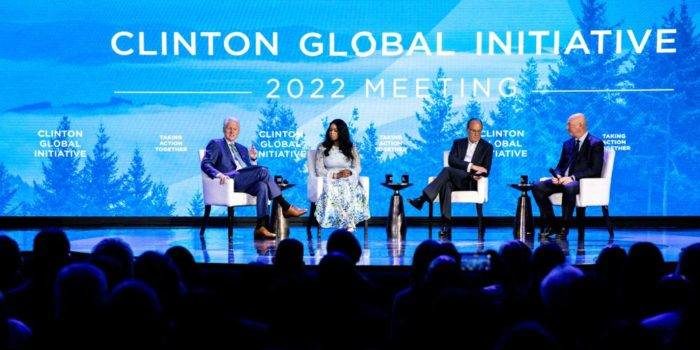 (Headline USA) The Clinton Global Initiative, a "philanthropic" offshoot of the notorious Clinton Foundation—which has long been accused of operating as a de-facto slush fund, influence-peddling racket and money-laundering scheme for the scheming power-couple and their coattail-riding daughter—is taking a cue from the Biden family by expanding its business operations to Ukraine.
They planned to announce the launch of the CGI Ukraine Action Network, as well as numerous financial pledges, to support nonprofits working in the country, as the annual conference opens in New York on Monday morning, coinciding with the United Nations General Assembly.
The announcement also overlaps with several other intriguing developments, however. Among them is the recent revelation that a major Democratic donor, Penny Pritzker, is being tapped to oversee the economic restructuring of Ukraine when its war with Russia is over.
Ukraine President Volodymyr Zelenskyy also planned to return to Capitol Hill this week to ask Congress and the White House for $24 billion more in additional "humanitarian" aid, which would put U.S. contributions at an estimated $112 billion for the year 2023 alone, on top of the roughly $100 billion it committed to giving the previous year.
That comes despite recent revelations showing that Ukrainian oligarchs were spending some of the funding to purchase super-yachts that were being stored in Monaco.
Friend sent me this from Monaco. The country has seen an influx of Ukrainians with massive yachts, some up to 200ft long w/ helipads. Also, banks there don't ask questions about large sums of money being deposited. People are just assigned a number with no identification or… pic.twitter.com/DIFMh6sb52

— Adrian Norman (@AdrianNormanDC) September 14, 2023
The CGI announcement also follows the rumors that failed 2016 candidate Hillary Clinton may be angling for yet another shot at the presidency as Democrats in the D.C. Establishment begin to line up against Joe Biden and Kamala Harris.
Recent reports indicated that  former President Bill Clinton held meetings with Sen. Joe Manchin, D-W.Va., who is rumored to be the favored candidate of the No Labels Party and a potential spoiler for Democrats should he enter into the race as a third-party candidate.
Lastly, it comes after a recent biography of Biden broke the news that Hillary Clinton, who served as secretary of State during the Obama administration, may have violated the Logan Act by circumventing official U.S. diplomatic channels in reaching out to Zelenskyy about helping to evacuate residents from war-torn Afghanistan into soon-to-be war-torn Ukraine.
Her presumption reportedly earned her a rebuke from her former campaign policy adviser—and current national security adviser—Jake Sullivan but resulted in no criminal culpability.
The CGI Ukraine Action Network is the result of a collaboration that began last year between Hillary Clinton and Olena Zelenska, first lady of Ukraine.
The new organization, which will be formally announced Tuesday, is designed to mobilize existing CGI partners, as well as new leaders from around the world, to create and finance new commitments for Ukrainians, according to CGI. Numerous monetary commitments for Ukraine are also set to be announced Tuesday,
Continuing support is part of the Clinton Global Initiative, or CGI, theme of "Keep Going" this year, as Hillary Clinton, Bill Clinton and Clinton Foundation Vice Chair Chelsea Clinton say they will convene political, business and philanthropic leaders to build on the momentum of the conference's return last year after a six-year hiatus.
"The focus will be on what we can do, not what we can't," wrote the Clintons in a letter to the conference community, "and will highlight how even seemingly small actions, when taken together, can turn the tide on even our most stubborn challenges."
Pope Francis and Bill Clinton will discuss climate change, the refugee crisis, caused in part by the war in Ukraine, and other pressing issues to open the conference on Monday morning.
In 2022, CGI announced more than 140 commitments, including a $1 billion plan from Water.org, co-founded by actor Matt Damon, to help 100 million people in Africa, Asia and Latin America get lasting access to water and sanitation.
This year, leaders including World Bank President Ajay Banga, Airbnb CEO Brian Chesky, World Central Kitchen founder Jose Andres and Ford Foundation CEO Darren Walker, will attend and make their own commitments, which are required for attendance at the conference.
However, for nonprofits working in Ukraine, the spotlight CGI is offering them, 18 months after Russia's invasion of the country, may be just as important as the monetary commitments.
The nonprofit Save Ukraine, which has opened community centers across the country to help families and especially children traumatized by the war and works to rescue Ukrainian children who have been detained in Russia, is set to receive commitments of support during CGI that it plans to use to open more centers, said Olga Yerokhina, spokeswoman for the charity.
"We know that we have no choice—we must work hard and we are ready for that," said Yerokhina, who is based in Kyiv. "But we also have this feeling of, 'Guys, please don't leave us because we want to be with you.' If we are not with you, Russia is going to just erase us from the map of the world."
Actor Liev Schreiber, co-founder of BlueCheck Ukraine, which vets small Ukrainian nonprofits doing humanitarian work in their communities so that donors can learn about these smaller organizations and feel comfortable funding them, said reminding people about what Ukrainians are still going through may be the most important part of CGI.
"The best possible outcome is keeping people aware that they are still an existential situation," Schreiber said.
"Democracies are designed to push back against impossible odds. And it's worked. It's been a miracle in many respects," he added. "… It really is a David and Goliath story. It's extraordinary. And it's not just them. It's us supporting them. How can we give that up now?"
Schreiber will speak on a panel Monday morning about Ukraine's short-term and long-term needs, along with Filippo Grandi, the United Nations High Commissioner for Refugees, Fran Katsoudas, Cisco's Chief People, Policy & Purpose Officer, and actor Orlando Bloom, who serves as UNICEF's Goodwill Ambassador. Bloom is expected to announce a commitment for new technology for Ukrainian schoolchildren on Monday, organizers say.
"I'm super proud of the global community," Schreiber said. "This is a test for us. Do we really care? I think so far we've had remarkable success so far in supporting them. So many countries did something extraordinary to help. That's significant. We can't forget that."
Adapted from reporting by the Associated Press