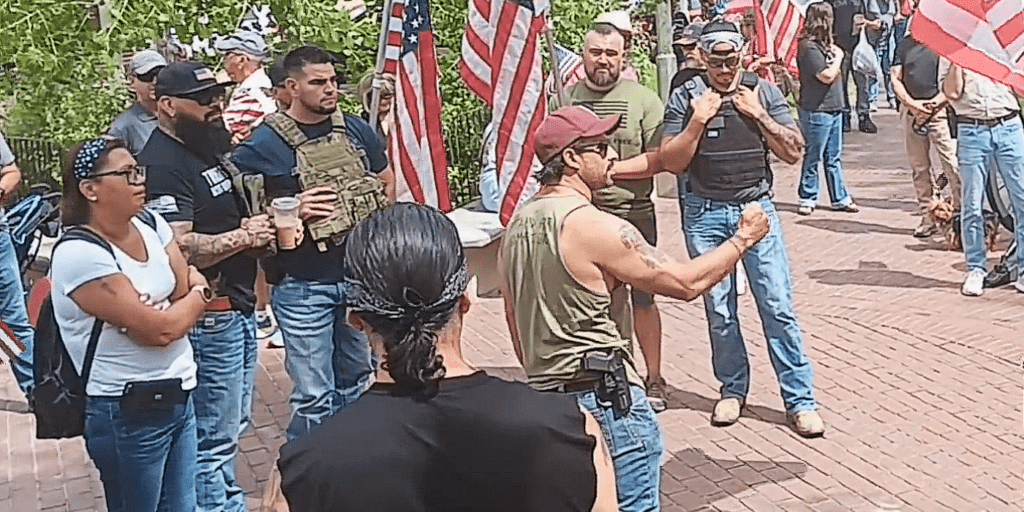 (Jacob Bruns, Headline USA) After New Mexico's Democrat Gov. Michelle Lujan Grisham on Friday declared gun violence a public health emergency in an effort to curtail Second Amendment rights, armed residents publicly protested in outright defiance of the gun-grabbing governor, the Gateway Pundit reported.
"This will not stand! We will not comply!" a speaker shouted to applause as open-carrying gun-owners walked around Albuquerque's Old Town on Sunday in protest of the new ban.
Police did not interfere with the peaceful protest.
Albuquerque police Chief Harold Medina said he did not intend to enforce Grisham's order, and Bernalillo County Sheriff John Allen said he was uneasy about it because it raised too many questions about constitutional rights.
Grisham issued her unconstitutional emergency order suspending the right to carry firearms in public across Albuquerque and the surrounding county for at least 30 days.
JUST IN: New Mexico Governor Michelle Lujan Grisham suggests that citizens with concealed carry permits in her state "should be" arrested for just walking on the sidewalk.

The only person who should be arrested is Grisham.

Reporter: "If someone's got a concealed carry permit in… pic.twitter.com/zwGdgIisxX

— Collin Rugg (@CollinRugg) September 9, 2023
The George-Soros-funded governor said she expected legal challenges.
According to her prior press release, those open-carrying were directly disobeying her latest order.
"The action plan includes a suspension of open and concealed carry laws in Bernalillo County, temporarily prohibiting the carrying of guns on public property with certain exceptions," a press release from her office said, carving out a few exceptions for security guards or police officers.
In response to the machinations, Republican state Reps. Stefani Lord and John Block called Grisham to be impeached.
"This emergency order violates the Governor's oath to protect and defend the rights of New Mexicans and is illegal in nature," they wrote in a joint statement.
"The legislature has a duty to intervene when the government is overstepping its boundaries, and Governor Grisham's order and comments disqualify her from continuing her tenure as Governor."
.@Lord4NM and I were on Fox & Friends this morning to discuss the governor's impending impeachment after she violated our Constitution and trampled upon her oath of office, which she says isn't "absolute."

Watch it here: https://t.co/1QFaWVNrdf pic.twitter.com/OcTWkKr5Vf

— Rep. John Block (@RepBlock) September 11, 2023
Even the far-left U.S. Rep. Ted Lieu, D-Calif., noted how crazed Grisham's actions were.
"This order from the Governor of New Mexico violates the U.S. Constitution," Lieu tweeted Saturday.
"No state in the union can suspend the federal Constitution," he added. "There is no such thing as a state public health emergency exception to the U.S. Constitution."
I support gun safety laws. However, this order from the Governor of New Mexico violates the U.S. Constitution. No state in the union can suspend the federal Constitution. There is no such thing as a state public health emergency exception to the U.S. Constitution. https://t.co/kOhLMtaOl2

— Ted Lieu (@tedlieu) September 9, 2023