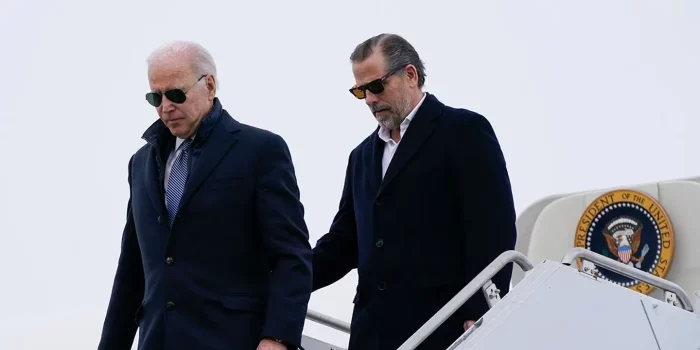 (Mark Pellin, Headline USA) The National Archives and Records Administration that served up former President Donald Trump to the Biden Justice Department for allegedly possessing classified documents, setting the stage for the DOJ's militarized raid on Mar-a-Lago, are now reportedly withholding information that could prove critical to ongoing investigations of President Joe Biden and his son, Hunter.
House Oversight Committee Chair Rep. James Comer, R-Ky., on Wednesday blasted NARA officials for refusing to turn over documents the committee had requested, claiming the information is "personal."
Comer detailed his concerns in a letter to Archivist of the United States Colleen Shogan, writing, "In discussions between NARA and Committee staff regarding the Committee's previous request for special access to Vice-Presidential records, NARA informed the Committee that certain documents in NARA's custody would not be produced to the Committee – and, indeed, NARA would not inform the Committee of their existence – if NARA deems those records to be 'personal records' as defined by the PRA."
Comer made clear that he didn't agree with NARA's interpretation of what constituted so-called personal records.
"However, 'personal records' are defined as those records 'which do not relate to or have an effect upon the carrying out of the constitutional, statutory, or other official or ceremonial duties of' the Vice President," Comer wrote. "The Committee has made clear that its investigation involves potential abuse by then-Vice President Biden of his official duties; it cannot be NARA that determines whether certain records 'do not relate to or have an effect upon' those duties."
House Republicans aren't alone in their efforts trying to wrest information from the National Archives, and for valid reason. In response to a Freedom of Information Act and lawsuit filed last year by the Southeastern Legal Foundation seeking information on three email aliases Biden was known to use, NARA officials conceded they had nearly 5,400 documents that contained the name of one of Biden's email pseudonyms, such as Robert L. Peters, JRB Ware or Robin Ware.
Comer's letter was sent as House Republicans continue probes into a growing mountain of evidence, whistleblowers' sworn testimonies, bank statements, phone records and text messages that tie Biden to his son's allegedly corrupt business dealings, including claims of a multi-million-dollar bribery scheme designed to benefit Ukrainian energy company Burisma.
"The Committee is concerned that foreign nationals have sought access and influence by engaging in lucrative business relationships with high-profile political figures' immediate family members, including members of the Biden family," Comer wrote in his letter.
If NARA persisted to withhold the requested documents, Comer said his committee wanted NARA to  "produce a log asserting the basis for withholding the document."
As a parting shot, Comer reminded the nation's archivist that, "The Committee on Oversight and Accountability has specific jurisdiction over NARA under House Rule X. Additionally, the Committee on Oversight and Accountability is the principal oversight committee of the U.S. House of Representatives and has broad authority to investigate 'any matter' at 'any time' under House Rule X."
Mark Pellin is an editor at Headline USA. Follow him at twitter.com/sabrepaw70.