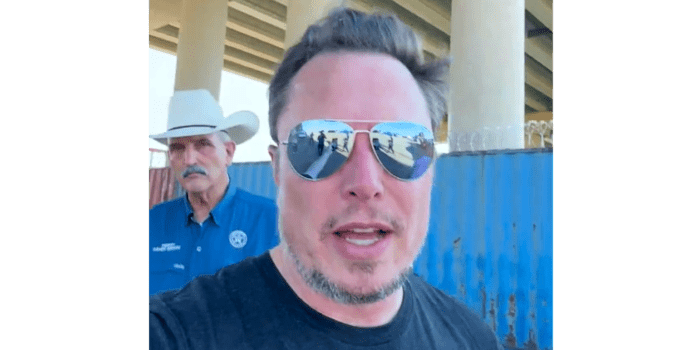 (Headline USA) Tech billionaire Elon Musk livestreamed his visit to the southern border this week, highlighting the ways in which illegal immigrants and drug cartels are exploiting the open border, according to Bloomberg.
"This is real time, unfiltered," he said in the video, accompanied by Rep. Tony Gonzales, R-Texas. "What you see is what I see."
The South Africa-born Twitter and Tesla owner said he is "extremely pro-immigrant" since he is an immigrant himself, but he explained that there needs to be expanded access to legal immigration for qualified individuals and a crackdown on those who are violating U.S. immigration law.
"To be clear, we're both very much in favor of expanded legal immigration," said the red-pilled liberal Musk of himself and Gonzalez, a RINO centrist first elected in 2020 who already has been censured by Texas Republicans for regularly siding with Democrats on social issues like gay marriage, abortion and immigration.
"I think anyone who is hardworking and honest and is really gonna add to … the economy, we should let them in," Musk continued. "But what we're seeing here are in some cases some pretty extreme individuals coming through … obviously not suggesting everyone is like this."
Musk shared that he heard about a man with facial tattoos, including teardrops, who had hopped the border. The tattoo, he explained, "means they have murdered someone and they are so proud of having murdered someone that they tattoo—one tear on their face for every one person that they killed."
While he only visited Eagle Pass, Texas, Musk argued the border crisis is having serious effects on other parts of the country.
It is "leading to a collapse of social services where even America's largest city, New York, is buckling under the pressure of just how many illegal immigrants are going to New York," he said.
"If New York can't handle it, well, pretty much no part of the country can," Musk continued. "So if we don't do something soon, we're just gonna have, like I said, a collapse in social services as we're already seeing in New York."