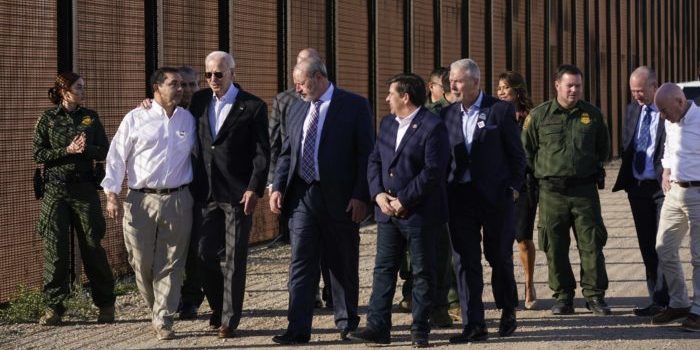 (Deroy Murdock, Headline USA)  "There is presently an acute and immediate need to construct physical barriers and roads in the vicinity of the border of the United States in order to prevent unlawful entries into the United States."
Who said this? Donald J. Trump? Rep. Matt Gaetz, R- Fla.? Rep. Marjorie Taylor Greene, R-Ga.?
Nope. These are the words of Homeland Security Secretary Alejandro Mayorkas.
This comment landed Wednesday 180 degrees opposite Mayorkas' oft-stated lie: "The border is closed."
Regardless, Mayorkas is just the latest Democrat to acknowledge basic reality. Regarding the U.S.–Mexico border, Democrats are beginning to look a lot like mega-MAGA Republicans.
"We want them to have a limit on who can come across the border," Gov. Kathy Hochul, D-N.Y. told CBS News's Face the Nation on Oct. 1. "It is too open right now."
"This issue will destroy New York City," warned the city's Democrat Mayor Eric Adams. Some 110,000 illegal aliens have swamped Gotham since spring 2022. Adams expects to spend $12 billion to babysit them. Consequently, he is slashing the budgets for police, fire, sanitation and other services by 15% through Fiscal Year 2025.
Ingrid Lewis–Martin, Adams's chief advisor, told WPIX-TV: "We need the federal government, the Congress members, the Senate, and the president to do its job: Close the borders."
"Massachusetts is in a state of emergency, and we need all hands-on deck," Democrat Gov. Maura Healey declared in August. She deployed the National Guard to fix her state's illegal-alien crisis.
Gov. J.B. Pritzker, D–Ill., complained to President Joe Biden that "the federal government's lack of intervention and coordination at the border has created an untenable situation for Illinois."
Pritzker's constituents, particularly blacks, are enraged in Chicago, a Democrat fortress that backed Biden over Trump, 74% to 24%.
"We are in the community of black people, where we already get the low scraps," a woman seethed at a Windy City town hall Tuesday. "And then you want to take the little scraps, the resources, that we have and put us at the bottom of the barrel? That's not fair. And I won't have it!"
Fueling this anger, a record 11,000 illegal aliens from 152 nations lately have invaded the southern frontier daily.
U.S. students are being booted from gymnasia and dormitories to house illegals.
Military veterans heading to December's Army–Navy game in Massachusetts have seen their hotel rooms canceled to shelter illegal aliens.
Far from the Mexican border, in Bemidji, Minn., illegal alien Oscar Luna, 22, allegedly got an 11-year-old girl drunk and then raped her in a house with 11 other illegals.
This catastrophe has devolved from the unthinkable to the indecipherable. Mayorkas on Thursday totally contradicted his statement Wednesday, which, already had T-boned into his previous remarks.
"There is no new administration policy with respect to the border wall," Mayorkas said in Mexico City.
Sweating like a jittery bomb maker, he added: "From Day One, this administration has made clear that a border wall is not the answer. That remains our position, and our position has never wavered."
"Construct physical barriers…" or "a border wall is not the answer?" Which is it?
As usual, Biden amplified the confusion. On Thursday, he rebuffed his new policy from Wednesday that "never wavered."
"Do you believe the border wall works?" a journalist asked in the Oval Office.
Biden replied: "No."
"Do you believe the border wall works?"

BIDEN: "No" pic.twitter.com/ND479ZM2SA

— RNC Research (@RNCResearch) October 5, 2023
Will Biden side with Wednesday's Mayorkas and these other Democrat neo-hawks on the border? Or will he stick with Thursday's Mayorkas and his own campaign pledge? As Biden told Yahoo News on August 5, 2020: "There will not be another foot of wall constructed in my administration."
Who knows?
When guessing what next will tumble from Biden's mouth, remember Scarlett O'Hara's immortal words: "Tomorrow is another day."
While the Biden administration juggles its own contradictions, enjoy the man-bites-dog spectacle of Democrats demanding a closed border. This is even more astonishing than Republicans screaming for higher taxes.
Deroy Murdock is a Manhattan-based Fox News contributor. Aaron Cichon contributed research to this opinion piece.