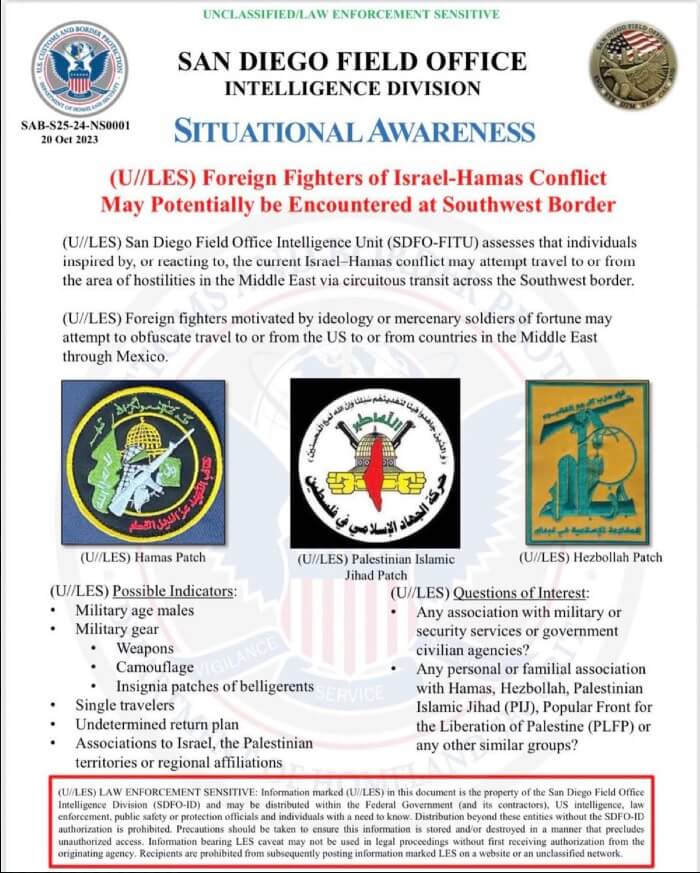 (Deroy Murdock, Headline USA) Is Joe Biden trying to get us killed? His Nagasaki-like destruction of the southern "border" is like a mating call that lures terrorists to have their way with us.
U.S. Customs and Border Protection reports, 269,735 illegal aliens invaded America in September, a one-month record.
Border Patrol agents apprehended 1,912,663 illegals during President Donald J. Trump's final 32 months in office. In Biden's first 32, CBP encountered 6,292,849 illegals—up a staggering 329%.
Even worse, some 1.5 million Known Gotaways appeared in Border Patrol binoculars before disappearing into the homeland.
These illegals were detected and counted, albeit not stopped. Unknown Gotaways break into America invisibly and then vanish. How many? Where? Who knows?
Maddeningly, Biden's murder of the U.S.–Mexico border (1848-2021) goes even deeper.
Since Trump departed, southern-frontier incursions have soared among illegals in the Terrorist Screening Dataset. Consider these Fiscal Year apprehensions:
2017 – 2
2018 – 6
2019 – 0
2020 – 3
2021 – 15
2022 – 98
2023 – 169
Border Patrol caught only 11 terrorists trying to penetrate America's boundaries under Trump. Under Biden? 282—up an alarming 2,464%.
Also nailed on the "border," as Biden watched: 73,008 Special Interest Aliens from 12 terror-tainted countries. Between October 1, 2021, and October 4, 2023, these illegals hailed from:
Afghanistan – 6,386
Egypt – 3,153
Iran – 659
Iraq – 123
Jordan – 185
Lebanon – 164
Mauritania – 15,594
Pakistan – 1,613
Syria – 538
Turkey – 30,830
Uzbekistan – 13,624
Yemen – 139
This month alone, through Oct. 14, illegals have busted in from:
Afghanistan – 285
China – Nearly 2,000
Iran – 30+
Pakistan – 35
Russia – 100+
Syria – Nearly 60
These numbers mean potentially massive trouble, especially since Hamas's unprovoked slaughter of innocent Israelis on Oct. 7 cranked the Middle Eastern cauldron to boil.
U.S. Customs and Border Protection's San Diego Field Office Intelligence Unit issued a "Situational Awareness" memorandum, which the Daily Caller first obtained.
The Oct. 20 document "assesses that individuals inspired by, or reacting to, the current Israel–Hamas conflict may attempt travel to or from the area of hostilities in the Middle East via circuitous transit across the Southwest border."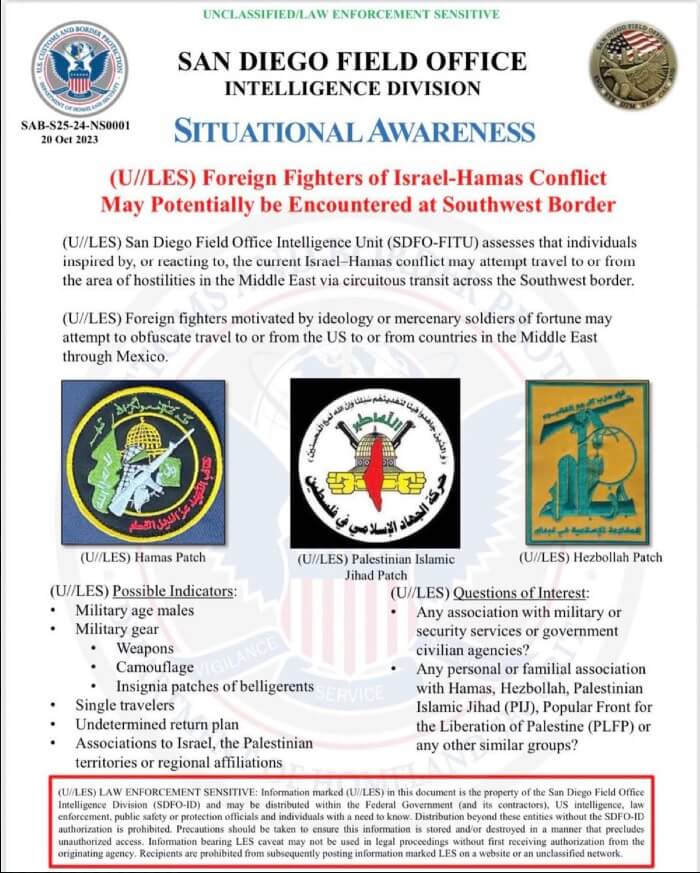 Immigration – CBP memo on terrorists at border
The warning continues: "Foreign fighters motivated by ideology or mercenary soldiers of fortune may attempt to obfuscate travel to or from the US to or from countries in the Middle East through Mexico."
The memo urges Border Patrol officers to scrutinize "military age males" and "single travelers" with "undetermined return plan[s]."
This describes many, if not most, of those now breaking into America.
"Here in the U.S., we cannot and do not discount the possibility that Hamas or their foreign terrorist organizations could exploit the conflict to call on their supporters to conduct attacks on our own soil," FBI Director Christopher Wray warned on Oct. 15. "Over the past week, we have seen an increase in reported threats to these groups [Jews and Muslims] here in the United States, and we are moving quickly to mitigate them."
The Department of Homeland Security's Fiscal Year 2024 threat assessment states: "Terrorists and criminal actors may exploit the elevated flow and increasingly complex security environment to enter the United States."
Senator Ted Cruz, R-Texas, put this bluntly.
"If you're the next planner of 9/11, it's obvious where you go—you go to Mexico, and you come right across. Joe Biden and the idiots in his administration will fly you to wherever you want to go in this country, and you can carry out your terror attack," he declared on his podcast, Verdict with Ted Cruz.
"They are exposing vulnerabilities, whether it is someone trying to hijack an airplane or whether it is a suicide bomber in a mall, or an amusement park, or a concert," Cruz added. "We are vulnerable to global terrorism because this administration has thrown open the border and will not protect us."
Let's hope that these suspicious people invaded America solely for Biden's free-smart-phones.
If not, there will be blood, and it will soak the hands of Joseph Robinette Biden and his border-hating Democrats.
Deroy Murdock is a Manhattan-based Fox News contributor.