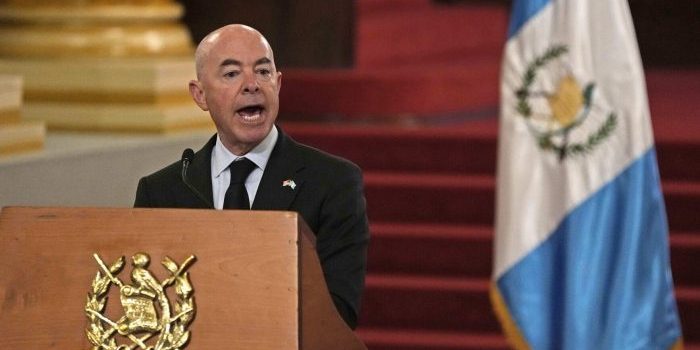 (Luis Cornelio, Headline USA) Rep. Marjorie Taylor Greene, R-Ga., spearheaded a bold move on Thursday to push for a vote on the impeachment of DHS Secretary Alejandro Mayorkas, who has come under intense scrutiny following the illegal entry of millions of undocumented migrants across the U.S. border. 
During a speech on the House floor, Greene unveiled the impeachment resolution, citing what she described as "high crimes and misdemeanors" committed by Mayorkas.
BREAKING: I just filed privileged Articles of Impeachment on Secretary Mayorkas.

Yesterday, two Americans from my district in Dalton, GA were killed in a high-speed head-on collision at the hands of human traffickers smuggling illegal aliens into this country.

They had 5 kids… pic.twitter.com/JHbYYLpElp

— Rep. Marjorie Taylor Greene🇺🇸 (@RepMTG) November 9, 2023
"The ongoing invasion at our southern border is a direct national security threat against the States and against the citizens therein," she declared.
Taking the campaign to Twitter, Greene announced Reps. Greg Steube, R-Fla., and Mary Miller, R-Ill., were co-sponsoring the resolution. 
"Enough is enough – it's time to impeach Secretary Mayorkas and hold him accountable for failing to secure our border," she said in a tweet, alongside an interview on Fox News.
I was devastated when I found out two of my constituents were killed by a human smuggler trafficking illegal aliens.

Enough is enough – it's time to impeach Secretary Mayorkas and hold him accountable for failing to secure our border.

We need to do the right thing for the… pic.twitter.com/ZTLjJ2eENi

— Rep. Marjorie Taylor Greene🇺🇸 (@RepMTG) November 10, 2023
Data from the U.S. Customs and Border Protection reveals a staggering 8 million illegal immigrants were apprehended by immigration authorities. Additionally, 1.8 million individuals, known as "gotaways," managed to enter the U.S. undetected. 
According to a report in the New York Post, 280 individuals were identified as names on the federal government's terrorist watchlists among those attempting to cross the border. Notably, 73,000 "special interests aliens" originated from countries such as Iran and Afghanistan, where the threat of terrorism looms large.
BREAKING: 8 people are dead, including two innocent Americans, after a human smuggler driving a vehicle full of illegal immigrants crashed head on into a SUV while evading police in Batesville, TX, killing everyone in both vehicles, according to @TxDPS. Deceased Americans from… pic.twitter.com/feqr2fkftN

— Bill Melugin (@BillMelugin_) November 8, 2023
In addition, apprehension records indicate that 85,000 out of 400,000 unaccompanied minors have gone missing. Tragically, a total of 1,424 individuals have lost their lives in perilous attempts to cross the border illegally.
Greene's case against Mayorkas points to alleged violations of the U.S. Constitution's Article IV Guarantee Clause and disregard for the Secure Fence Act of 2006. The controversial policy of catch and release remains a focal point in the impeachment resolution. 
Responding to the threat of impeachment, the DHS accused House Republicans of playing politics. "While the House Majority has wasted months trying to score points with baseless attacks, Secretary Mayorkas has been doing his job and working to keep Americans safe," a spokesperson claimed.