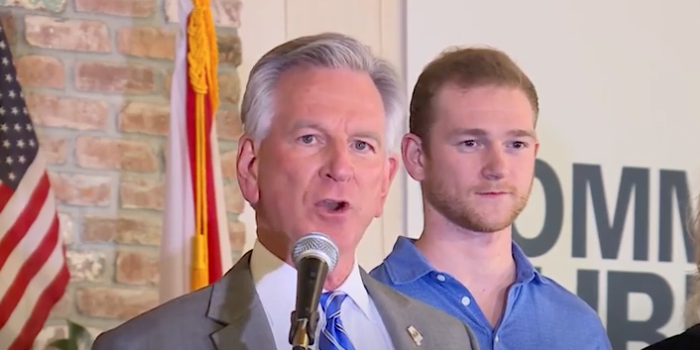 (Headline USA) In the months since Alabama Republican Sen. Tommy Tuberville bravely defended the unborn against the DoD's anti-life policy of funding abortion tourism for soldiers, the military brass affected have been largely silent. But as the ramifications of his appointment and promotion freeze have grown, the heat is rising, and the brass is starting to complain.
This week, some of the military's most senior leaders whined that Tuberville was trying to protect life. They said the damage the holds will do to the military will be felt for years, as young talented officers decide they've had enough and choose to get out.
"We're on the fringe of losing a generation of champions," Air Force Gen. Mark Kelly, the head Air Combat Command, complained this week at a defense conference in Maryland. Kelly said he's talking to his junior officers, many with families, and they are "people who will take a bullet for the nation, the Constitution," failing to notice that Tuberville is protecting that family by attempting to preserve the life of their offspring.
The Pentagon's soon-to-be highest military leader is also complaining about Tuberville's desire to save babies.
Navy Adm. Christopher Grady, who currently serves as the military's No. 2 officer as Joint Chiefs vice chairman, will simultaneously have to fill in as chairman starting Oct. 1 with the retirement of Gen. Mark Milley if his replacement, Air Force Gen. C.Q. Brown, can't get confirmed in the next two weeks.
"We need C.Q. Brown to be confirmed as the next chairman of the Joint Chiefs," Grady said Wednesday at the Air and Space Forces Association conference.
For younger officers who are stuck in limbo by the holds, "the fact that folks can't plan for their moves or get their kids in school" is what is hurting them, Grady said. "There is a cumulative cost to this and we need to be very attuned to that."
Grady did not mention the children of these families who could be saved by Tuberville's policy, nor the DoD's option to simply stop funding baby-slaughter tourism. Nor did he call for a Senate vote which could lift the freeze. Instead, he only pressured Tuberville and his pro-life stance.
Tuberville announced the holds late last year after the Supreme Court ruled in Dobbs that abortion limits should be left to the states, and the Biden administration's Pentagon head, Defense Secretary Lloyd Austin, responded by instituting a policy that Tuberville says violates the law.
Under the policy, soldiers are reimbursed for participating in abortion tourism if they are serving in a state that has outlawed those services.
Tuberville says the policy violates a federal law that says Defense Department funds may not be used for abortions, except in cases of rape, incest or where the life of the mother is threatened.
So in March, Tuberville exercised a privilege that allows any single senator to place a hold on a nomination, which can be overridden by a majority vote of the Senate.
It's not the first time general officer promotions have been frozen by a single senator. In July 2020, Democratic Sen. Tammy Duckworth of Illinois put a blanket hold on military promotions.
Kori Schake, the director of foreign and defense policy studies at the American Enterprise Institute, said while military officers are concerned about the holds and their use as a "political cudgel," it is inappropriate for them to speak out.
"It's not just the president who provides civilian control of the military; constitutionally, Congress also serves that function. We wouldn't want our military criticizing the president's partisan political acts, so we shouldn't want them doing it about Congress, either," Schake said.
Adapted from reporting by the Associated Press