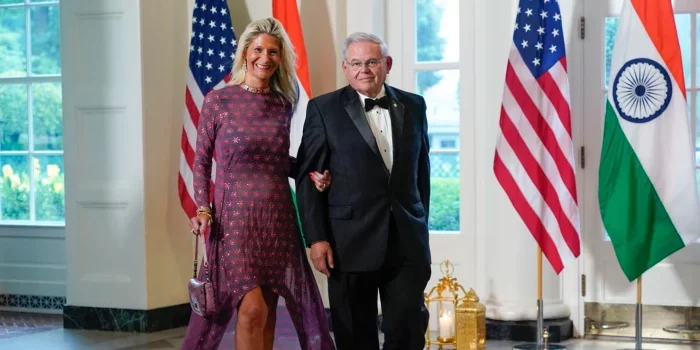 (Luis Cornelio, Headline USA) Nadine Menendez, the wife of Sen. Bob Menendez, D-N.J., is facing renewed scrutiny after she killed a man after a car accident. 
As reported by the New York Times, the incident has resurfaced with disturbing questions on whether Sen. Menendez interfered in the brief investigation into the death of 49-year-old Richard Koop.
Bob Menendez's wife Nadine Arslanian hit and killed a man while driving her Mercedes in 2018

She was found "not at fault" for the incident because the man was jaywalking. She was not given a DUI test at the scene and was immediately allowed to leave after providing a statement pic.twitter.com/D7bpnBWQBC

— Benny Johnson (@bennyjohnson) October 5, 2023
The unsettling events took place in December 2018 when Ms. Menendez struck and killed Koop while driving her black Mercedes-Benz in New Jersey. Ms. Menendez's driving threw Koop's body to the curb.
She was later released with no summons after police officers reportedly found her "not at fault" for the death, leaving the mourning family baffled, the Times reported. 
"The family really has had serious concerns over what we felt was a very sparse, one-sided investigation," Rosemarie Koop-Angelicola told the Times. "Definitely a lack of legal enthusiasm to take this case, definite lack of media coverage, and a lack of communication by the authorities of Bergen County. We felt that the whole thing was very silently swept under the rug." 
According to the Times, one witness at the scene of the accident noted that officers appeared to be familiar with Ms. Menendez. A retired officer even arrived at the scene as "a favor" to a friend, whose wife knew the now-indicted woman. 
These disturbing questions surrounding the car accident come at a time when the Menendez couple is already facing a federal indictment for bribery and political corruption.
USA Today has posted my column on the Menendez indictment and what is means for the Hunter Biden case. There are striking similarities between the Menendez and Biden cases. https://t.co/WDsEAU4m6S

— Jonathan Turley (@JonathanTurley) September 25, 2023
In a politically damning 39-page indictment, federal prosecutors allege that Menendez was willing to suppress a criminal investigation involving a New Jersey businessman in exchange for a $60,000 Mercedes. 
In September 2023, the U.S. Attorney's Office for the Southern District of New York announced three charges against the Menendez couple, alleging that the powerful couple received several hundred thousands of dollars in bribes from three New Jersey businesses men. 
"As the grand jury charged, between 2018 and 2022, Senator Menendez and his wife engaged in a corrupt relationship with Wael Hana, Jose Uribe, and Fred Daibes – three New Jersey businessmen who collectively paid hundreds of thousands of dollars of bribes, including cash, gold, a Mercedes Benz, and other things of value – in exchange for Senator Menendez agreeing to use his power and influence to protect and enrich those businessmen and to benefit the Government of Egypt," U.S. Attorney Damian Williams said. 
Menendez has since faced bipartisan calls for his immediate resignation.
New Jersey Senator Cory Booker calls on Senator Bob Menendez to resign. pic.twitter.com/B8tOCpik4r

— Yashar Ali (@yashar) September 26, 2023