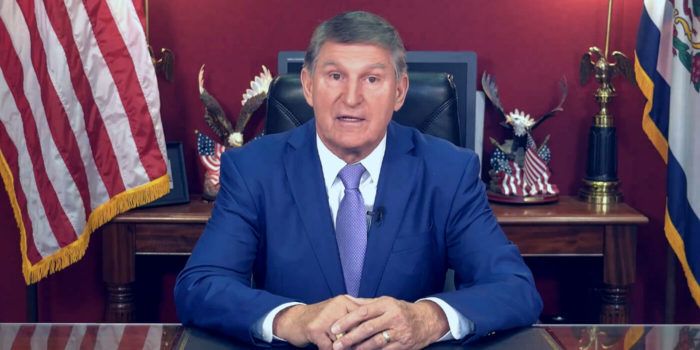 () Sen. Joe Manchin, D-W.V., announced Thursday he would not run for reelection for his Senate seat but will instead travel the country to see if there is an appetite for a movement made up of the political middle to "take back America," he said.
"After months of deliberation and long conversation with my family, I believe in my heart of hearts that I have accomplished what I set out to do for West Virginia," Manchin said in a video announcement on Twitter.
"I have made one of the toughest decisions of my life and decided that I will not be running for election to United States Senate," he continued. "But what I will be doing is traveling the country and speaking out to see if there is an interest in creating a movement to mobilize the middle and bring Americans together."
Manchin, who is known as one of the most moderate Democrats in the Senate, sparked rumors with his announcement that he was feeling out a possible presidential run.
"The growing divide between Democrats and Republicans is paralyzing Congress and worsening our nations problems," Manchin said.
"The majority of Americans are just plain worn out," he added. "Our economy is not working for many Americans, from the rising cost of food and fuel and everything in between."
Manchin also spoke about the "border crisis" and the illegal drugs entering the U.S., the soaring national debt and public safety. He also addressed the need to avoid being pulled into the overseas wars in Ukraine and Gaza.
"I know our country isn't as divided as Washington would like us to believe," Manchin said.
"We share common values of family, freedom, democracy, dignity and a belief that together we can overcome any challenge," he continued. "We need to take back America and not let this divisive hatred further pull us apart. Public service has and continues to drive me everyday."
Manchin, who cited former President John F. Kennedy as his inspiration for getting into politics, will join JFK's nephew, Robert F. Kennedy Jr., as one of the most formidable third-party contenders and potential spoilers for both leading parties. He has been floated as a top contender in the emerging No Labels ticket.
However, having been a longtime member of the Democratic party, he is likely to pose the greatest threat to his former party, where incumbent President Joe Biden thus far has seen little competition from his own side despite growing indications of discontent from within.
Manchin's exit from the West Virginia Senate race also adds a new layer of intrigue to the ongoing primary battle there, where sitting governor Jim Justice—a former Democrat who once was endorsed by Manchin—is leading against Freedom Caucus Rep. Alex Mooney.
Manchin had one primary competitor, activist Zachary Shrewsbury. It remains to be seen whether another political heavyweight will enter the race for the Democratic side or if the party will instead make the calculated decision to write off the deep-red state.
Headline USA's Ben Sellers contributed to this report.