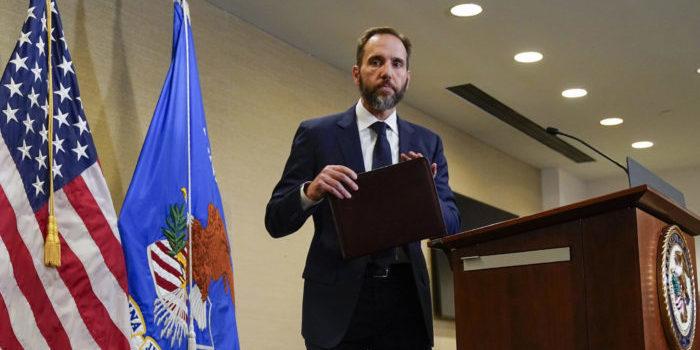 (Luis Cornelio, Headline USA) The Biden Justice Department, under the controversial leadership of Special Counsel Jack Smith, has sparked a contentious legal showdown by attempting to muzzle former President Donald Trump in the run-up to the 2024 presidential election.  
Smith's controversial maneuver in the case against Trump's alleged effort to overturn the 2020 presidential election involves a motion filed last Friday, in which the DOJ demanded the implementation of a "narrowly tailored" gag order against Trump.
"Since the indictment in this case, the defendant has spread disparaging and inflammatory public posts on Truth Social on a near-daily basis regarding the citizens of the District of Columbia, the court, prosecutors and prospective witnesses," prosecutors wrote in a 19-page motion.
Trump quickly responded to the gag order petition by blasting Smith as a deranged prosecutor.  "I'm campaigning for President against an incompetent person who has WEAPONIZED the DOJ & FBI to go after his Political Opponent, & I am not allowed to COMMENT?" Trump asked in a fiery Truth Social post.
"They Leak, Lie, & Sue, & they won't allow me to SPEAK? How else would I explain that Jack Smith is DERANGED, or Crooked Joe is INCOMPETENT?" the former president added. 
In the motion, Smith singled out Trump's criticism against key figures involved in the contentious legal case.
These figures include Smith himself, who has become a focal point of conservative ire, and Judge Tanya Chutkan, an Obama appointee whose previous rulings on J6 cases have ignited criticism. Former Vice President Mike Pence, a long-shot presidential candidate, also finds himself on Trump's long list of targets, federal prosecutors claimed. 
 "Like his previous public disinformation campaign regarding the 2020 presidential election," they claimed, "the defendant's recent extrajudicial statements are intended to undermine public confidence in an institution — the judicial system — and to undermine confidence in and intimidate individuals — the court, the jury pool, witnesses and prosecutors." 
This latest move is just one chapter in the ongoing battle between Trump and Biden's DOJ. Just last month, Chutkan issued a scathing warning to Trump through his attorneys.
"I caution you and your client to take special care in your public statements in this case," Chutkan reportedly said. "I will take whatever measures are necessary to protect the integrity of these proceedings."