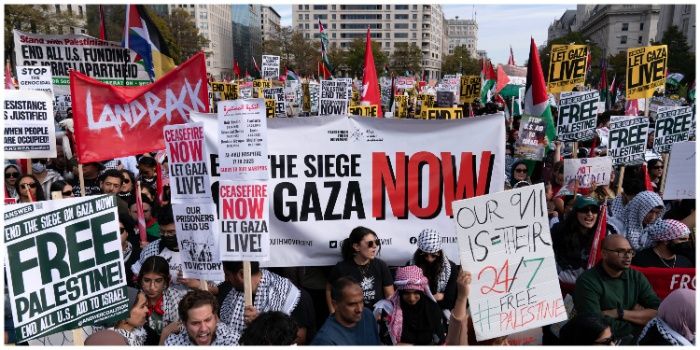 (Luis Cornelio, Headline USA) Hundreds of pro-Palestinian demonstrators gathered on Saturday outside President Joe Biden's Delaware residence, accusing him of supporting what they deemed as genocide amid the conflict between Israel and Hamas in Gaza. 
Chants of "Biden, Biden, you can't hide! We charge you with genocide!" echoed through the air, as captured in a video widely shared on social media and reported by Fox News. Among the protestors was controversial activist Linda Sarsour, known for her anti-Israel rhetoric. 
This morning, hundreds of Pro-Palestine activists gathered outside President Biden's neighborhood in Wilmington, Del. to call for a ceasefire in Gaza.

Biden is expected to arrive in Wilmington for the weekend, this afternoon. pic.twitter.com/0ObVhBl8w6

— Gary Grumbach (@GaryGrumbach) November 11, 2023
NBC reporter Gary Grumbach posted a video showing protestors waving Palestinian flags and donning keffiyeh, the black and white scarf symbolic of Palestinian nationalism. The crowd shouted, "No justice, no peace! No justice, no peace! Ceasefire now, ceasefire now!"
Another video showed the protestors shouting, "What do we want? Justice. When do we want it? Now. If we don't get it? Shut it down. If we don't get it? Shut it down. … In November, We Remember!"
"In November, We Remember!"

NOW: Hundreds of Pro-Palestinian marchers have flooded into Joe Biden's Delaware neighborhood and are protesting in front of his homepic.twitter.com/2TadGRdTnR

— Kyle Becker (@kylenabecker) November 11, 2023
In a particularly contentious moment, protestors chanted, "From the river to the sea, Palestine will be free," a phrase explicitly and historically associated with the destruction of the Jewish state.
BREAKING: Hundreds of pro-Palestine protesters are reportedly marching towards President Joe Biden's Delaware home as they accuse him of genocide.

"President Biden, you can't hide! We charge you with genocide!" the angry mob shouted.

The protest lines up perfectly as Biden is… pic.twitter.com/QdJv7mzazp

— Collin Rugg (@CollinRugg) November 11, 2023
This phrase gained attention when Rep. Rashida Tlaib, D-Mich., faced House censure after sharing it on social media. Tlaib defended her use, stating it was an "aspirational call for freedom." 
Specifically, she claimed, "From the river to the sea is an aspirational call for freedom, human rights, and peaceful coexistence, not death, destruction, or hate." Despite her claim, the House passed a censure motion against Tlaib.
This phrase means eradicating Israel and Jews. Period. Dressing it up in a new PR ploy won't change that. Only a return of hostages, eliminating Hamas and liberating Gaza from oppressive terror will save civilian lives and secure the peace, justice and dignity you seek. https://t.co/pPcjpMYRkS

— Rep. Debbie Wasserman Schultz (@RepDWStweets) November 5, 2023
Biden, who had returned to Delaware following a Veterans Day ceremony at Arlington National Cemetery, was not at the residence during the protest. 
The wave of protests began after Israel initiated an offense in the Hamas-governed Gaza Strip, following the Hamas-led Oct. 7 terrorist attacks. At least 1,400 individuals, including U.S. citizens, died that day. 
Pro-Palestinian protestors claim that the Israeli military actions in Gaza are resulting in the deaths of thousands of innocent civilians.