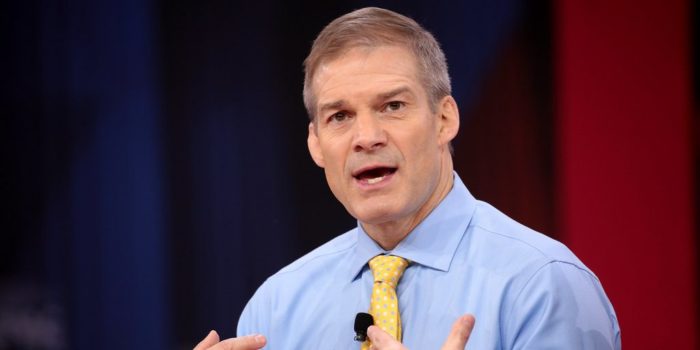 (Ken Silva, Headline USA) House Judiciary Committee Chairman Jim Jordan, R-Ohio, has launched a probe into whether Fulton County District Attorney Fani Willis colluded with federal prosecutors for its indictment of former President Donald Trump and 18 other defendants.
Jordan wrote a letter to Willis on Thursday, informing her of the investigation and demanding a slew of documents from her office.
"The timing of this prosecution reinforces concerns about your motivation," Jordan told Willis.
"In February 2021 … you directed your office to open an investigation into President Trump … Yet, you did not bring charges until two-and-a-half years later, at a time when the campaign for the Republican presidential nomination is in full swing," Jordan added.
"Moreover, you have requested that the trial in this matter begin on March 4, 2024, the day before Super Tuesday and eight days before the Georgia presidential primary."
Willis changed her preferred trial date hours after Jordan released his letter, asking a judge to move it up to this October for all defendants—which some commentators said is an even more brazen disregard for justice than the March 2024 date.
All theater. Willis is a political actor–this is not serious, but she is taking her cues from Jack Smith by proposing an unrealistic trial date to make it look like Trump, defendants are intentionally delaying the trial for political reasons. Corrupt (and stupid) to the core. https://t.co/yQfh9Y8FdV

— Julie Kelly 🇺🇸 (@julie_kelly2) August 24, 2023
Trial dates aside, Jordan raised particular concerns about Willis using Georgia law to criminalize activity that took place in the White House, as well as to criminalize free speech.
For instance, Count 22 of Willis's indictment  seeks to criminalize internal deliberations within the Justice Department, including a meeting where a former DOJ official requested formal authorization from his superiors to take an official act, Jordan said.  And in Count 1, the indictment seeks to criminalize the White House Chief of Staff arranging meetings and phone calls for the President, he said.
The documents sought by the House Judiciary include all communications relating to the Fulton County DA's receipt and use of federal funds; all documents and communications between the DA's Office and DOJ; and All communications between the DA's Office and any federal officials about the investigation into Trump or any of the other eighteen defendants.
Those communications should include correspondences between Willis and  Special Counsel Jack Smith, who is leading the federal prosecution of Trump in Washington DC and Florida, Jordan clarified.
The House Judiciary also published a press release in conjunction with Jordan's letter, explaining its reasons for the investigation.
"Willis's indictment and prosecution implicate substantial federal interests, and the circumstances surrounding her actions raise serious concerns about whether such actions are politically motivated," the committee said.
"Given the weighty federal interests at stake, the Committee is conducting oversight of this matter to determine whether any legislative reforms are appropriate or necessary."
Ken Silva is a staff writer at Headline USA. Follow him at twitter.com/jd_cashless.