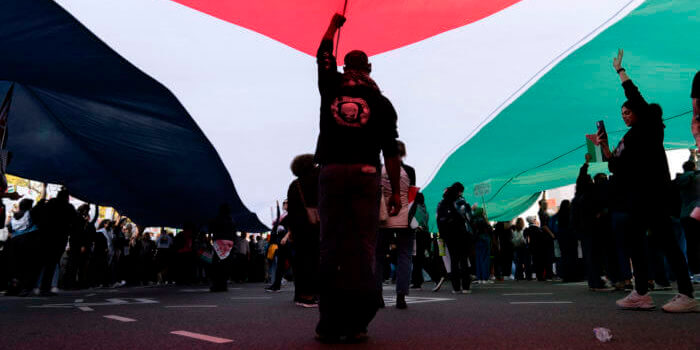 (Kevin Whiteley, Headline USA) Democrats in Congress and the Biden Cabinet are pressing to give Palestinian migrants carte blanche to resettle in America, even as supporters of the terrorist group Hamas conduct violent and disruptive demonstrations that left an elderly Jewish man dead following an assault in California on Monday.
Sen. Dick Durbin, D-Ill.; Rep. Pramila Jayapal, D-Wash.; and Rep. Jan Schakowsky, D-Ill., were reportedly circulating a refugee-request letter penned by Secretary of State Antony Blinken and Homeland Security Secretary Alejandro Mayorkas, according to the Daily Caller, which obtained a preliminary version of the document.
@SenatorDurbin, @RepJayapal, & Rep. @janschakowsky are circulating a letter asking Joe Biden to accept Palestinian regufess in the United States.

We CANNOT allow unvetted illegals from terror hotspots into our neighborhoods and communities! pic.twitter.com/tfjP0QGwCn

— Citizens for Renewing America (@amrenewcitizen) November 8, 2023
The secretaries' typo-laden draft sought "Temporary Protected Status (TPS) and/or Deferred Enforced Departure (DED) for Palestinians present in the U.S." on the grounds of "the horrific October 7 terrorist attack by Hamas and Israel's ensuring [sic] military response."
Nowhere did the letter mention Israeli civilians who might be in the U.S. temporarily.
This latest attempt for the U.S. to welcome more anti-American immigrants follows an earlier push for the Biden administration to allow an estimated 1 million Palestinian refugees to legally resettle in America, the New York Post reported.
With roughly 170,000 Palestinians currently living in the U.S., some may question the wisdom of pouring gasoline on a tinderbox already waiting to ignite.
But the bigger questions may be who on the Left is actually supporting these measures—and why?
In many cases, it seems Islamic radicals and other globalists bent on widespread civil unrest may be weaponizing America's own limitless generosity and open-door hospitality against it, in order to effect its downfall and destruction.
RIOTING FOR CHARITY?
A wave of vandalism in Washington, D.C., over the weekend—including grafitti on the gates on the White House—showed just how highly Palestinian activists regard their adopted nation.
"Tens of thousands" of pro-Palestinian activists scattered about the nation's capital on Saturday, Nov. 4, leaving damage to McPherson Square Metro Station, police vehicles and historic statues (including Benjamin Franklin and Gen. Marquis de Lafayette) in their wake.
Some were allegedly connected to New York-based nonprofit WESPAC Foundation, as said extremists share the foundation's tax-exempt status, according to a Washington Examiner investigation.
This violent activism could have been launched via fiscal sponsorship, which enables registered charities to extend services—e.g., donation processing, human resources and legal oversight—to grassroots projects operating under a larger entity's umbrella, according to National Council of Nonprofits, the Examiner reported.
Such relationships are conducive to anonymity in terms of financial disclosures. It's worth noting that WESPAC is the "fiscal agent" for U.S. Palestinian Community Network.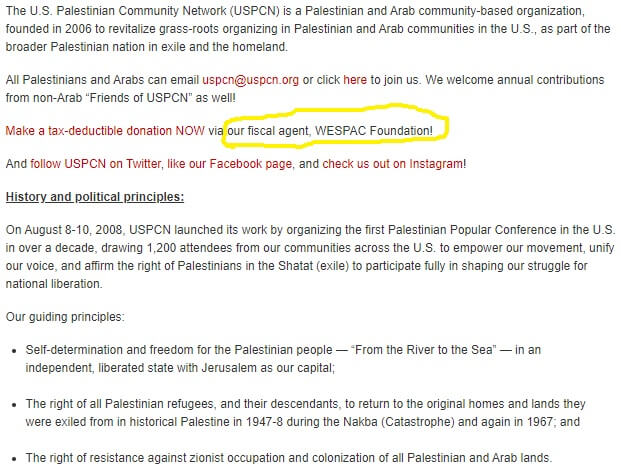 Other pro-Palestinian activist groups involved in Saturday's D.C. protest included the Progress Unity Fund-sponsored ANSWER Coalition and Al-Awda—"a founding coalition member of the anti-Israel Global Palestinian Right of Return (according to the Examiner's investigation)."
Protest sponsors and supporters included Maryland 2 Palestine and Students for Justice in Palestine, which has chapters at American University, Georgetown University, the University of Maryland, George Mason University, Boston University, Temple University and other academic institutions.
Tack on numerous gender studies departments nationwide, who signed an open letter, standing in solidarity with the WESPAC-funded Palestinian Feminist Collective.
MOOLAH-U AKBAR
Moreover, nearly 300 universities appeared to have received significant funding from foreign governments, with wealthy Arab nations like Qatar, Saudi Arabia and the United Arab Emirates giving more than $4 billion over a five-year span, according to a study by the Network Contagion Research Institute.
Schools in question failed to disclose information on roughly $13 billion in contributions from foreign, authoritarian entities—an illegal move to obtain money.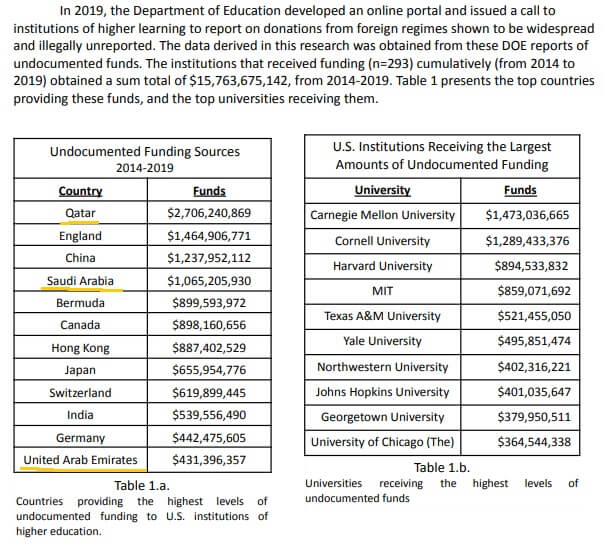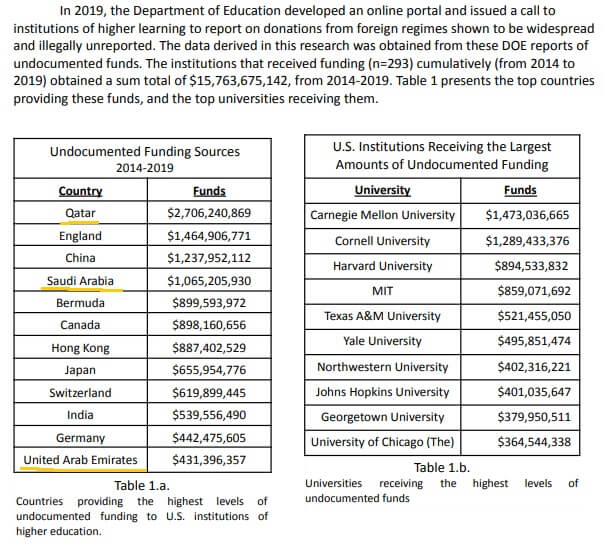 Caption: Listed are some of the top schools in question, undisclosed amounts of funding and countries that contributed. Source: Network Contagion Research Institute via Free Press
Zachor Legal Institute presented a case on a need to tighten the Specially Designated Nationals and Blocked Persons List overseen by the  U.S. Treasury Department's Office of Foreign Assets Control, according to the Examiner.
Zachor Legal President Marc Greendorfer submitted a memo to senior Republican majority staffers on the House Foreign Affairs and Ways and Means committees.
"Hamas, Hezbollah, Popular Front for the Liberation of Palestine, and other U.S.-designated terrorist groups 'are able to evade OFAC's sanctions program by creating or enlisting third-party front organizations that purport to be charitable or humanitarian groups but are, in fact, support organs of terror organizations.'"
Again, fiscal sponsorship enables terrorist groups such as Hamas to fundraise in and gain access to U.S.'s financial system.