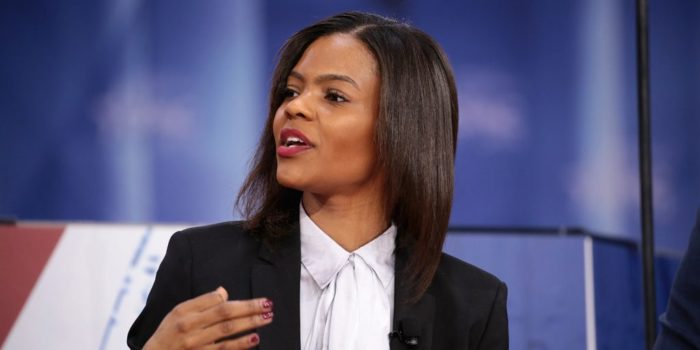 (Molly Bruns, Headline USA) A feud between Daily Wire co-founder, podcast host and Orthodox Jew Ben Shapiro and fellow host Candace Owens over their religious differences regarding the conflict between Israel and Hamas continued to escalate Wednesday, raising questions about Owens's future at the company.
The spat appeared to have been brewing for quite some time over the Twittersphere, but it went public in a big way with a viral video on Tuesday, in which Shapiro slammed the Blexit founder for her "faux sophistication."
Ben Shapiro says Candace Owens has been absolutely disgraceful on the Israel/Gaza/Hamas issue and that her 'faux-sophistication' is ridiculous.pic.twitter.com/ysEsyGldgX

— Josh Power 🇺🇸 (@JoshPower80) November 14, 2023
"I think her behavior during this has been disgraceful, without a doubt," Shapiro said.
"I think that her faux sophistication on these particular issues has been ridiculous," he continued. "Everybody can see the moves that she's making and the things that she's saying and I find them disreputable."
Shapiro's statements visibly shocked some of the members of the crowd, according to Trending Politics News.
Owens initially posted a tweet on Nov. 3 condemning the initial attack on Israel.
No government anywhere has a right to commit a genocide, ever.

There is no justification for a genocide.

I can't believe this even needs to be said or is even considered the least bit controversial to state.

— Candace Owens (@RealCandaceO) November 3, 2023
She followed it up on her show, stating that American government should not get involved in the conflict and generally reproached the act of genocide.
Some argued that Owens accused Israel of genocide in this post, lighting the initial spark of a fiery feud and leading to Shapiro's comments.
Owens' initially reacted to the video by posting the Beatitudes from the gospel of Matthew.
Blessed are the peacemakers: for they shall be called the children of God. Blessed are they which are persecuted for righteousness' sake: for theirs is the kingdom of heaven. Blessed are ye, when men shall revile you, and persecute you, and shall say all manner of evil against…

— Candace Owens (@RealCandaceO) November 14, 2023
Replying to the post, Shapiro encouraged Owens to leave the Daily Wire.
Candace, if you feel that taking money from The Daily Wire somehow comes between you and God, by all means quit. https://t.co/qachKhAuHo

— Ben Shapiro (@benshapiro) November 15, 2023
She replied by stating that he acted "unprofessional and emotionally unhinged" when addressing the Israel conflict, and made it clear she would have no more of it.
You have been acting unprofessional and emotionally unhinged for weeks now. And we have all had to sit back and allow it and have all tried to exercise exceeding understanding for your raw emotion.

But you cross a certain line when you come for scripture and read yourself into…

— Candace Owens (@RealCandaceO) November 15, 2023
Owens reacted to the interaction in an appearance on the "Tucker on X" show, explaining that she saw the video when everyone else did and had not heard from Shapiro at the time of filming.
She also refused to respond to the content of the video, stating that she did not know exactly what Shapiro referred to and did not want to resort needlessly to ad hominem attacks against her employer before slipping in a subtle dig.
"If that was me that was caught on a video saying that about colleagues that I work with I would be embarrassed, so I think that the video speaks more to Ben's character than it does to mine," she said.
Ep. 39 Candace Owens responds to Ben Shapiro.

TIMESTAMPS:
(00:00) Candace is attacked – even when she's right
(4:27) Ben Shapiro's comments
(12:50) The emotional response to news out of Israel
(23:05) Nikki Haley vs. free speech
(30:34) 2024 predictions pic.twitter.com/VOThqpQQ48

— Tucker Carlson (@TuckerCarlson) November 15, 2023
She also explained that she and Shapiro disagreed on several other hot-button political topics in the past and she is not too concerned about the difference in opinion.
Owens appears to still work at the Daily Wire, as Shapiro does not have direct involvement in leadership anymore.
She did remove any mention of the company from her Twitter profile, leading to increased speculation.