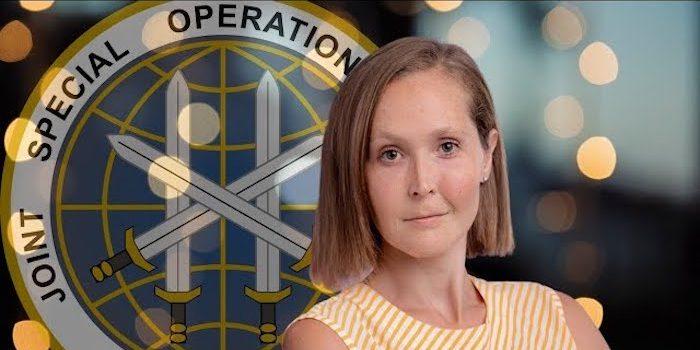 (Ken Silva, Headline USA) On June 8, 2022, a Twitter account linked to U.S. counterterrorism operator Jade Parker claimed to have identified the suspect who placed pipe bombs outside the RNC and DNC headquarters ahead of the Jan. 6, 2021, Capitol Hill protest-turned-riot.
"I have a very good idea who the unidentified Jan 6 bomber & affiliated network [are]," stated the account linked to Parker—a credentialed terrorism analyst, who's worked with numerous government agencies, including U.S. Joint Special Operations Command.
"I haven't given the name to anyone. I want Upchurch & her red cell to run it down & get full credit in an official professional capacity if I'm right," Parker's account tweeted, presumably referencing her fellow terrorism researcher, H.E. Upchurch, who specializes in investigating neofascist networks.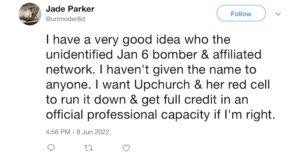 "It's information that's worth $100,000 to the Department of Justice, so you can be sure none of this is about money."
The next day, Parker's account tweeted again.
"Terrorism tweeps, did you also see the part about how I used my research to find the identity of suspect who planted the DNC & RNC bombs on January 6? It's a super interesting one if I'm right," her account stated.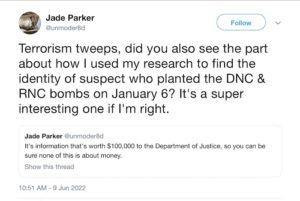 Then, Parker seemingly vanished.
Almost all traces of her have disappeared from the publicly available internet, other than some of her deleted tweets, which were archived on the Way Back Machine.
She did leave a Google Drive document online before going dark.
Parker's Research
Much of Parker's Google Drive document centers around her allegations that dishonest academics stole her pioneering research on "accelerationism"—a concept embraced by a variety of ideologies that all seek to collapse Western society.
Parker's work included a deep analysis of one accelerationist network in particular: the Satanic cult Order of the Nine Angles, or O9A.
O9A is reportedly led by a neo-Nazi militant from Operation Gladio, a Cold War-era CIA program that sponsored neo-Nazi stay-behind militias in Europe—ostensibly to prepare for a possible Soviet Union invasion, though the militias wound up terrorizing local citizens instead.
More recently, O9A fomented several neo-Nazi terrorist plots, an O9A-linked neo-Nazi participated in the 2017 Charlottesville Unite the Right rally, and one of the network's leaders, Joshua Caleb Sutter, was revealed to be a longtime FBI informant.
According to Parker's research, O9A seeks to tear the fabric of U.S. society through terrorism and psychological warfare.
"The strategic intent of O9A is to symbolically destroy the Holy Roman Empire, represented by the United States, and replace it with an antimodern civilization in the New Middle Ages," Parker said in her Google Drive document.
The Google Drive document only references Jan. 6 in passing, and doesn't mention the pipe bombs.
Parker does seem to think that accelerationists exploited the Jan. 6 crowd. She discussed this on her July 2021 appearance on the popular national security podcast, The Team House.
On that show, she said she had been trying to warn the U.S. intelligence community for years about the accelerationist threat, but no one listened to her.
After the events of Jan. 6, some researchers began paying attention to accelerationism, she said. However, they were mistaken to declare Capitol Hill protestors to be an accelerationist threat, she said.
The more likely scenario is that the Jan. 6 crowd was exploited by accelerationists to further divide the country, according to Parker.
"When you have people on January 6 who say, 'This is an insurrection.' Well first of all, that's not really the insurrection. That is a provocation to get people to believe—and the people on the ground, too—to believe they're part of a revolution. But also, more importantly than that, to get everyone else to believe there's an impending civil war," she said.
"And that is the myth they're trying to perpetuate—going into these communities, trying to stir up people to believe there's going to be an impending civil war," she added.
"Because if you get the myth, you can mobilize people."
Parker could not be reached for comment, her colleagues didn't respond to emails, and the FBI has refused to answer questions about its investigation.
The counterterrorism analyst's purported discovery and subsequent disappearance deepen the mystery of a case that remains unsolved nearly three years after the fact.
Pipe Bomb Mystery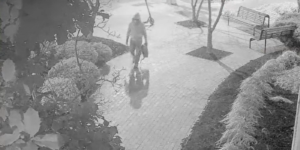 Jan. 6 suspected pipe bomber / IMAGE: RevolverNews via Rumble
An issue ignored by mainstream media, conservative outlets such as Revolver News have shown the improbability that the explosive devices could have been sitting outside the DNC and RNC headquarters for some 17 hours.
Sen. Ron Johnson, R-Wis., is among those who've called it "odd" that the Secret Service agents and their bomb-sniffing dogs didn't detect the devices when sweeping the DNC area ahead of a visit by Vice President-elect Kamala Harris.
And according to FBI whistleblower Kyle Seraphin, the bureau might be suppressing information about the pipe bomb suspect's identity.
Seraphin, who worked on the Jan. 6 investigation before being suspended from the FBI in April 2022, told the Washington Times earlier this year that investigators linked the suspect to a D.C. MetroRail SmarTrip card. The card indicated the individual got off at a Northern Virginia stop after planting both devices on Jan. 5.
"So they tagged the entrance time and the exit time to that card to that guy. And then they found out who bought the card. And the guy who bought the card was not the guy who was using it," Seraphin told the Washington Times.
"The card had never been used before. It was bought a year prior by a retired chief master sergeant in the Air Force, and he was a security contractor. So, he held a security clearance," he reportedly said.
Seraphin reportedly added that the FBI used security camera footage from the Northern Virginia Metro stop to identify the license plate of a car that the individual entered.
Still, the FBI has not publicly identified the subject.
Additionally, Seraphin has alleged that the J6 pipe bombs were built with inert material and were incapable of detonating.
On the No Way, Jose podcast in May, Seraphin explained the implications of his disclosures.
"Here's why that's interesting: The feds are never going to give you a real bomb. If they're going to set you up with something, it's not going to be real. It's going to be to set you up," he said.
"And there's no reason why we should not have run this person into the ground and found out who it was. And that person should have been charged. The only reasonable thing I can think of is: Somebody doesn't want that person to be found, and the most likely reason is that person is or was a federal source for some agency at some point," he said.
Steven D'Antuono, the former assistant director in charge of the FBI's Washington Field Office during Jan. 6, has pushed back against Seraphin's allegations.
"I'm not going to discount Kyle's view. That's his view from wherever he sits and the people he talked to. I don't know who he talked to," D'Antuono said in a June interview with the House Judiciary Committee.
"All I know is that we, at the Washington field office, received a report from the lab division, which are the bomb experts—I don't know what Kyle's expertise in bomb making is—that they were viable devices."
But D'Antuono also disclosed that some of the cell phone evidence from the FBI's pipe bomb investigation was "corrupted."
The retired agent said the FBI conducted geofencing—when investigators track all the cell phones that were in a given area—but received "corrupted data" from one of the cell phone providers.
"We have complete data. Not complete, because there's some data that was corrupted by one of the providers—not purposely by them, right," D'Antuono said, stammering through the interview.
"It's just unusual circumstances that we have corrupt data from one of the providers. I can't remember right now which one. But for that day, which is awful because we don't have that information to search."
The former FBI official, who headed the dubious 2020 Whitmer kidnap investigation in Michigan before being transferred to DC weeks ahead of Jan. 6, added: "I don't want any conspiracy theories."
Despite the numerous apparent anomalies of the FBI's pipe bomb investigation, officials have refused to respond to congressional inquiries over the matter.
FBI Director Chris Wray refused to answer pipe bomb questions posed by Rep. Thomas Massie, R-Ky., during a July Judiciary Committee hearing. Massie accused Wray of stonewalling the public.
"It was 900 days ago when this happened, and you said you had total confidence that you'd apprehend the subject," Massie said in July. "It's 900 days. You need to tell us what you found."
Ken Silva is a staff writer at Headline USA. Follow him at twitter.com/jd_cashless.