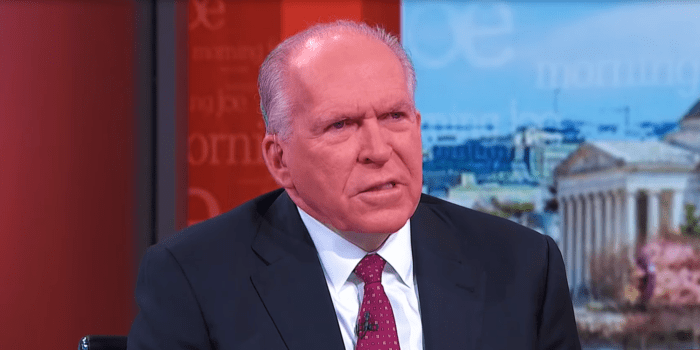 (Headline USA) The Department of Homeland Security tapped several leftist intelligence community members best known for pushing the Russian collusion hoax to its new "expert" group, according to a press release.
On Wednesday, DHS Secretary Alejandro Mayorkas announced the launch of a Homeland Intelligence Experts Group, which will meet four times a year.
It comprises "private sector experts who will provide their unique perspectives on the federal government's intelligence enterprise to DHS's [Intelligence and Analysis] and the Office of the Counterterrorism Coordinator," Mayorkas said in a statement.
"The security of the American people depends on our capacity to collect, generate, and disseminate actionable intelligence to our federal, state, local, territorial, tribal, campus, and private sector partners," he added. "I express my deep gratitude to these distinguished individuals for dedicating their exceptional expertise, experience, and vision to our critical mission."
Among the group's 17 members, at least three pushed the hoax that former President Donald Trump colluded with Russia to steal the 2016 election and signed the infamous October 2020 letter dismissing reports about Hunter Biden's laptop as Russian disinformation.
Those signatories are John Brennan, former director of the CIA; James Clapper, former director of National Intelligence; and Paul Kolbe, former senior operations officer at the CIA.
Clapper, in particular, became one of the leading proponents of the Russia-Gate hoax. In 2017, for example, he told CNN that Russian President Vladimir Putin "[k]nows how to handle an asset, and that's what he's doing with" Trump.
Brennan, likewise, pushed the hoax, writing in an August 2018 op-ed for the New York Times that Trump's denials were "hogwash."
"The only questions that remain are whether the collusion that took place constituted criminally liable conspiracy, whether obstruction of justice occurred to cover up any collusion or conspiracy, and how many members of 'Trump Incorporated' attempted to defraud the government by laundering and concealing the movement of money into their pockets," Brennan wrote at the time.
Brennan's partisan attacks were so unbecoming of the dignity of his former office that in 2018 Trump even threatened to revoke his security clearance, arguing that Brennan posed a national security threat. It remains unclear whether he followed through on the threat.