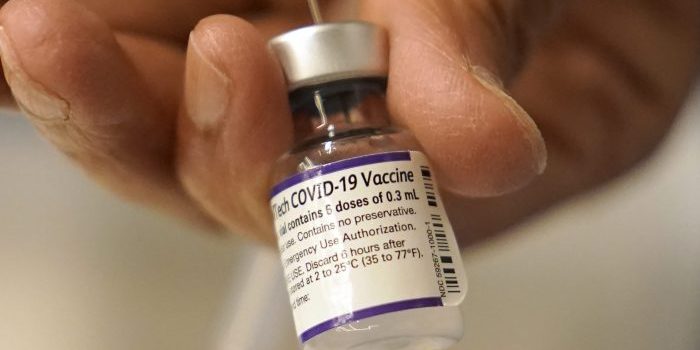 (Dmytro "Henry" Aleksandrov, Headline USA) The public for years has been fed a narrative that Pfizer's COVID-19 vaccine is manufactured with harmless messenger RNA, but a product label from the U.S. Food and Drug Administration informs that the vaccine contains artificially modified RNA that could be a risk to human health.
According to the label that Pfizer-BioNTech lists for its COVID-19 vaccine on a FDA fact sheet, each dose for children ages 5 through 11 contains modRNA, the abbreviation for modified RNA, the Epoch Times reported. But according to the Centers for Disease Control and Prevention's website, vaccines like Pfizer's are "made of mRNA," the purported harmless messenger RNA.
The CDC's guidance on mRNA ignores any reference to modRNA and doesn't provide any mention that the RNA used in COVID vaccines has been modified, as indicated on Pfizer's label with the FDA.
Also missing in the mix is mention that modRNA being injected into the body may cause serious adverse effects, including strokes and pulmonary embolism, "many of which were disclosed in Pfizer's documents but were not attributed to its product," the Times reported.
"It is my opinion that, at a minimum, the intentional use of mRNA—an acronym well-known to stand for messenger RNA along with the endless statements about the vaccines being based on naturally occurring messenger RNA constitute misbranding in violation of a number of laws," Ohio-based attorney Thomas Renz told the Epoch Times in an email.
"There is a legal and moral duty to provide informed consent, and to misrepresent a drug that was intended to be a gene therapy as a vaccine containing 'natural messenger RNA' is an apparent violation of both of those duties."
While the FDA uses the term "modRNA" throughout its regulatory documents for the Pfizer vaccine, when it received emergency use authorization the administration said the vaccine contained mRNA, which it described as "genetic material" that contains a "small piece of the SARS-CoV-2 virus's mRNA that instructs cells in the body to make the virus's distinctive 'spike' protein.'"
The duplicity is troubling because the SARS-CoV-2 virus doesn't contain mRNA, said David Wiseman, a research bioscientist with a doctorate in experimental pathology.
"mRNA is the kind of RNA produced in the copying of instructions from DNA in a process called transcription, so to say this is viral mRNA is inaccurate," Wiseman told the Epoch Times.
Renz, the Ohio attorney, reiterated those concerns. "Understand that, at core, mRNA, modRNA, saRNA, etc. — these are all gene therapies and all about genetic manipulation," Renz wrote to the Times.
"To suggest that this is high risk is an understatement. We have no idea what we are doing and yet we continue forward trying to control these genes," he warned.
Headline USA's Mark Pellin contributed to this report.