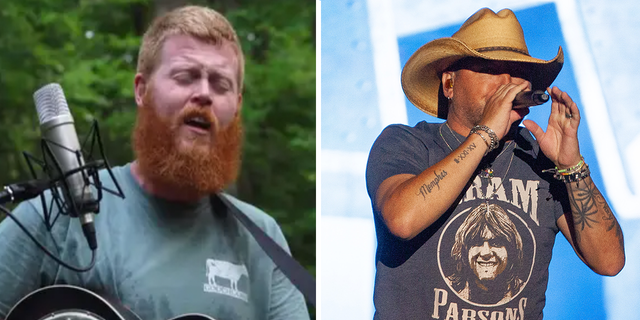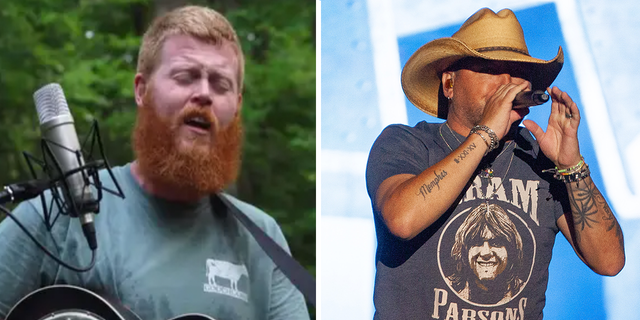 A folk song by a blue collar musician has unseated Jason Aldean's "Try That In A Small Town" from its premier position on a country music leaderboard after a video of its unplugged rendition became a sensation online.
Hailing from Virginia, Oliver Anthony's working-class tune, "Rich Men North of Richmond," rose to internet stardom recently when the YouTube channel Radio WV showcased Anthony's fervent rendition. The song, carrying potent political undertones, delves into the grievances of working-class individuals against the perceived dishonesty of Washington's politicians. It amassed a multitude of views on both YouTube and X, the platform we once recognized as Twitter.
In a mere few days, this track ascended to the pinnacle of the iTunes country chart, "surpassing the prior chart dominator, Jason Aldean's 'Try That In A Small Town,'" as per Billboard's coverage.
"Rich Men North of Richmond" criticizes elevated taxes and self-serving politicians in Washington, accusing them of wanting "just wanna have total control." The song's lyrics draw a stark contrast between "people in the street" grappling with hunger and "obese" citizens misusing the welfare system. It also touches upon the tragic rise in suicides among young men.
Anthony vocalizes, "Well God, if you're 5 foot 3 and you're 300 pounds, taxes ought not to pay for your bags of fudge rounds. Young men are putting themselves six feet in the ground, 'cause all this damn country does is keep on kicking them down."
The powerful message behind the lyrics struck a chord with numerous listeners, prompting them to share heartfelt anecdotes related to the song's themes.
Reacting to the song on Radio WV's video, one individual shared, "I'm a 39 year old Iraq vet and Construction worker, battling daily to support two children and maintain a farm on top of working 11-hour shifts. The impact of this song today was so profound that I had to pull over my aged peterbilt, overwhelmed with emotion. Preach brother."
Another listener described the song as "an anthem for 80+ million Americans who feel belittled, overlooked, ridiculed, defamed, and betrayed by their own governing body."
"Your words resonate with millions. Oliver, we've been waiting for someone like you," a commenter praised.
"One coal miner's granddaughter here, and I hear your message loud and clear. This song gives me both goosebumps and tears. Well done," a woman expressed.
On X, the platform once called Twitter, the tune garnered commendations from conservative pundits, political figures, and fellow artists.
Country musician John Rich declared, "Now THIS is a real McCoy!"
Now THIS is a real McCoy! #RichMenNorthOfRichmond https://t.co/RmhwWPTBXU

— John Rich???????? (@johnrich) August 11, 2023
Virginia's Attorney General, Jason Miyares, commented, "What a fantastic piece and a remarkable talent from Virginia."
Rep. Marjorie Taylor Greene, R-Ga., emphasized, "This is the voice that Washington needs to tune into, as it echoes the genuine sentiments and emotions of our citizens."
Trending Political News
San Francisco Walgreens Makes Desperate Move to Stop Shoplifting
The escalating crime rates and rampant shoplifting in San Francisco, a concerning issue well-known to anyone keeping an eye on the city, continues to wreak havoc.
The escalating crime rates have driven numerous stores to shut down, while others scramble to devise strategies to curb the merchandise pilferage by thieves.
Continue reading…
Burger King Employee Allegedly Caught Doing the Unthinkable With Customer's Food
According to Union Police Department, an assistant manager at a Burger King on Highway 176's Duncan Bypass is accused of serving fries that were allegedly retrieved from the garbage to patrons.
As reported by FOX Carolina, the South Carolina employee, Jaime Christine Major, 39, has been arrested and is facing charges for the malicious tampering of food intended for human consumption.
Continue reading…
Jeopardy Champion Labeled 'Hottest Contestant,' Considers OnlyFans
"Jeopardy!" participants are often recognized for their sharp intellect and broad understanding across various fields. However, the audience believes one contestant brings an additional charm.
Anji Nyquist, a recent victor on the beloved game show, is considered not just highly intelligent but also exceptionally attractive, as per the fans' feedback.
Continue reading…
Tom Brady Addresses 'Crazy' Rumors About His Dating Life
The Fourth of July party thrown by Fanatics earlier this month stirred up intense speculations surrounding retired NFL superstar Tom Brady and SKIMS creator Kim Kardashian.
Fanatics CEO Michael Rubin, who held the party at his lavish Hamptons retreat, quelled these rumors during his attendance at the Shawn Carter Foundation's 20th anniversary black-tie gala in New York City on Friday.
Continue reading…
Boxer's Plan to Flash the Crowd Backfires
Daniella Hemsley revealed her chest on live television Saturday evening, following her victory in her first match at the KingPyn Boxing event in Dublin, Ireland.
The model, known for her work on OnlyFans, jubilantly discarded her bra after triumphing over Aleksandra Danielka in the showcase fight. Unfortunately, she experienced a clothing mishap when the tassels meant to conceal her nipples were conspicuously absent, as reported by the New York Post.
Continue reading…
Megyn Kelly Reveals the Details About Her Private Meeting With Trump
On Monday, podcast host Megyn Kelly revealed details about her confidential meeting with former President Donald Trump.
The two caught up over the weekend at Turning Point's event in West Palm Beach, an occasion that attracted several high-profile individuals, including the ex-president himself.
Continue reading…
Source