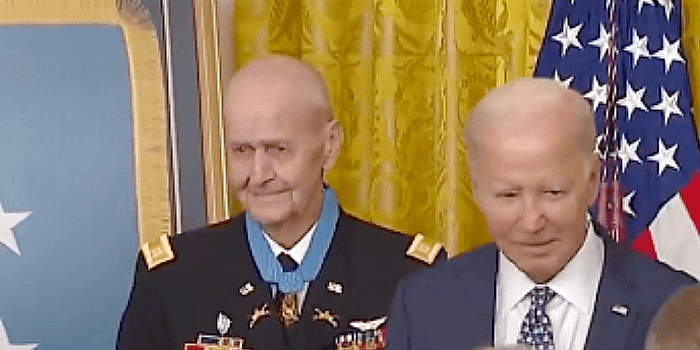 (Mark Pellin, Headline USA) President Joe Biden came under intense criticism for his equally offensive and potentially dangerous behavior during a ceremony recognizing a Medal of Honor hero.
The masker-in-chief had earlier this week proclaimed he would be wearing a facial covering after multi-vaxxed First Lady Jill Biden tested COVID positive. But during a White House ceremony Tuesday for Medal of Honor recipient Vietnam veteran Captain Larry Taylor, the president for unknown reasons removed his mask while in close proximity to the war hero, who at 81 would by Biden's own health officials be considered a high risk for COVID infection.
Biden then abruptly left the war hero standing alone on stage, looking bewildered, as he strolled maskless through the crowd. Backlash from veterans, and other social media commentators, were left appalled by Biden's behavior.
The look the Medal of Honor recipient gave the crowd when Biden walked off the stage during the middle of the ceremony. pic.twitter.com/sZ7Igz1fd3

— Michelle Whitzel  (@MichelleWhitzel) September 6, 2023
"THIS is the shit I cannot take….Capt. Larry Taylor earned  Medal of Honor – He risked his life by flying his chopper into heavy enemy fire to save four members of a recon team from almost certain death as they were about to be overrun," wrote a commentator who identified as a retired Green Beret medic, in a message that gained traction when Donald Trump re-posted it on Truth Social. "And for his bravery, courage and sacrifice…he has this shitbag walk off the stage leaving him hanging… Love and Respect, Cap.."
The outrage was shared across social media, lighting up Twitter with fierce condemnations of Biden's snub. "What a complete insult to that brave soldier. I feel so bad for him. Biden ruined the whole thing for him," one commentator wrote, adding "It is disgraceful."
Biden left our troops to be killed in Afghanistan

Military morale & recruiting is lowest in decades

He forced masks & unnecessary vaccines on them

And now he just walked out on a Medal of Honor ceremony, the highest honor for a soldier

He is a disgracepic.twitter.com/Uz5mVagPWk

— DC_Draino (@DC_Draino) September 5, 2023
In addition to abandoning a war hero, Biden was sharply criticized for the hypocrisy of touting masks for the public, but strolling maskless through a large crowd. White House mouthpiece Karine Jean-Pierre tried to offer a revisionist interpretation of the snub, claiming the maskless octogenarian's offensive premature wandering was all part of the script .
"He left as planned, as it was planned, when there was a pause in the program in order to minimize, to minimize his close contact with attendees who were about to participate in a reception," the insurrectionist spox claimed.
KJP Claims Biden Walked Out of Medal Of Honor Ceremony In Order To 'Minimize His Close Contact With Attendees.'

Joe Biden had already tested negative for COVID pic.twitter.com/ubJcs5Lezl

— Daily Caller (@DailyCaller) September 6, 2023
Former White House press secretary Kayleigh McEnany called out the overt gaslighting.
"I've never seen my former boss do that, President Trump. I've never seen President Bush do that. I've just not seen a commander-in-chief do that, just walk away, you stand in reverence," McEnany told Fox News. "Those speculating he wanted to cede the spotlight, I'm sorry, I just don't buy it."
Multiple commentators echoed that assessment and ripped the White House's story.
"He did everything they say you are not supposed to do when you have COVID," noted one commentator, while others were more succinct in their replies. "LIAR," replied one comment, and another added, "More spins than a damn tornado."
Mark Pellin is an editor at Headline USA. Follow him at twitter.com/sabrepaw70.