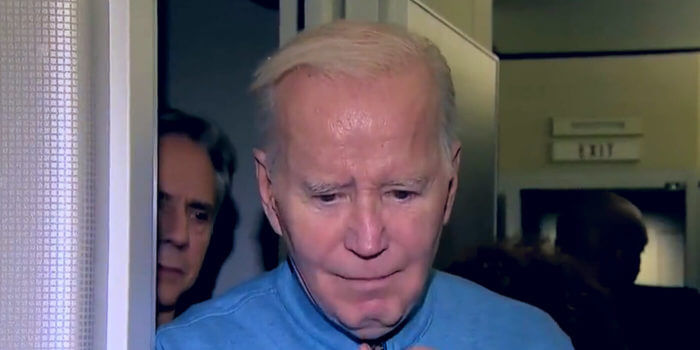 (Luis Cornelio, Headline USA) Leftist U.S. diplomats within the State Department raised scorching accusations against President Joe Biden, accusing their boss of spreading "misinformation" about the Israel-Hamas war, Axios reported on Monday. 
The individuals did not mince words, slamming the administration's handling of the war and accusing Israel of committing "war crimes."
Axios obtained an internal dissent memo that reads like a partisan manifesto, with a junior diplomat successfully rallying over 100 dissenters who are claiming that Biden is "complicit in genocide" in the Gaza Strip.  
This internal revolt calls on the U.S. to abandon Israel, the nation's strongest ally in the Middle East. In addition, the diplomats' call aligns with the hard-leftist members of the House of Representatives who are urging a ceasefire.
More than 100 State Department employees turn their backs on Biden for supporting Israel in new dissent memo https://t.co/69xaSsxBAp

— TheBlaze (@theblaze) November 14, 2023
Notably, Rep. Rashida Tlaib, R-Mich., a Palestinian American, along with the members of the infamous "Squad," has caught scathing rebuke from congressional leaders for calling for a ceasefire. Most recently, Tlaib was slapped with a House censure for defending the extremist phrase "from the river to the sea," which advocates for the complete elimination of the Jewish state. 
While outlets like Politico have reported on the dissent, the coverage appears to downplay the internal revolt of the criticism. Politico's headline, "U.S. diplomats slam Israel policy in leaked memo," seems to soften the impact of the discontent among officials.  
This contrasts sharply with the headlines during the Trump era, such as "U.S. Diplomats Draft Dissent Cable Following Storming of Capitol by Pro-Trump Mob" in Foreign Policy and "American diplomats sign 'dissent cable' over Trump remarks as White House fires official who said Trump must 'go'" in ABC News. 
This latest internal dissent is not the first challenge faced by the Biden administration. In April, Secretary of State Antony Blinken encountered scathing criticism from former Ambassador Thomas Boyatt and 23 diplomats at the U.S. embassy in Kabul.  
Their classified dissent cable, sent a month before the calamitous withdrawal from Afghanistan, implored the administration to hasten evacuation plans as the Afghan government edged closer to collapse.