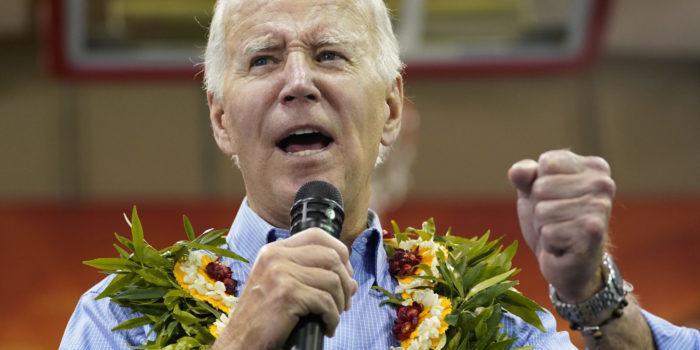 (Luis Cornelio, Headline USA) Amid growing criticism of President Joe Biden's handling of the Hawaii wildfires, the White House took to the Democrat-friendly New York Times to defend the president's disturbing "no comment" response when pressed about the heart-wrenching deaths in Hawaii. 
The incident, occurring as Biden was entering a vehicle while on yet another vacation, ignited a storm of public outcry and drew intense scrutiny from political figures and commentators skeptical of the administration's approach. The White House now claims that the president did not hear the question, despite video footage showing otherwise.
"He didn't hear the question," claimed Olivia Dalton, a deputy press secretary at the White House. "He absolutely didn't say 'no comment' in relation to Maui. And in fact, he had already spoken to the nation about Maui at that point, in addition to being in daily contact with senior staff, FEMA and state officials as he marshaled a whole-of-government response to the fires." 
The exchange unfolded during a reporter's query about the mounting death toll in Maui. President Biden's nonchalant response, "No. No comment," delivered with a smile, has left many observers disturbed.
Mark Kaniela Ing, a Hawaii State Representative and Biden supporter, took to Twitter to voice his frustrations against the president. "I campaigned for you. Now, when I lose dozens of my friends, family, and neighbors. This?" Ing said in a now-deleted post, reported Fox News. 
Similarly, podcast host Matt Walsh adopted an unreserved tone, calling the president a "scumbag." 
Biden, who at the time of the terse comment was enjoying a weekend getaway at Delaware's Rehoboth Beach, has since visited Maui but not before taking to Lake Tahoe for a nine-day vacation at the luxury mansion of Democrat billionaire Tom Steyer. 
Ella Sable Tacderan, a Maui resident, slammed Biden's lavish vacation at Lake Tahoe in an interview with CNN, calling his action "insulting" to the Hawaiians affected by the deadly wildfires.
"Where's the president?" asks one survivor of the Maui wildfires.

"Aren't we Americans, too? We're part of the United States, but why are we getting put in the back pocket? Why are we being ignored?" pic.twitter.com/QV2lOGhiCq

— RNC Research (@RNCResearch) August 19, 2023
"It's really affecting me because where's the president?" the Maui resident asked. "He decides to come here this week to come here next week." 
House Speaker Kevin McCarthy, R-Calif., hinted that he is working with House Republicans to launch a congressional investigation into the delayed response of the fires, which left 115 dead and 388 missing. 
Biden landed in Maui on Monday but quickly returned to Lake Tahoe.