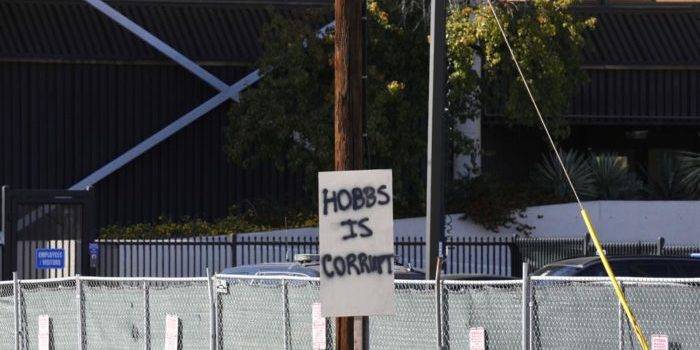 (Dmytro "Henry" Aleksandrov, Headline USA) The public interest group Restoring Integrity and Trust in Elections announced that it had secured a "massive win" for election integrity after an Arizona court ruled in its favor on Friday.
RITE sued Democrat Arizona Secretary of State Adrian Fontes in March, saying that his office's Elections Procedures Manual violated the law regarding the mail-in ballot signature verification process, the Western Journal reported.
"While state law requires county recorders to match mail-ballot signatures with signatures in the voter's 'registration record,' the Secretary instructed them to use a broader and less reliable universe of comparison signatures," RITE said, and outlined how Fontes participated in stealing the 2022 election in the state.
"That means the Secretary was requiring ballots to be counted despite using a signature that did not match anything in the voter's registration record. This was a clear violation of state law," RITE said.
To believe that Maricopa County successfully verified more than 400,000 ballots would mean that they would have had to verify signatures in 3 seconds or less.

While working OT.

Watch this video.

Are they treating the integrity of your vote with the respect it deserves? pic.twitter.com/66jO2SGuQq

— Kari Lake War Room (@KariLakeWarRoom) May 17, 2023
Even though Fontes and the group Mi Familia Vota filed a motion to dismiss the case, Yavapai County Superior Court Judge John Napper agreed with RITE's conclusion concerning the law in a Friday ruling.
The recorder was also required by the court to "review the voter's registration card" and not other documents with the voter's signature because the "statute is clear and unambiguous."
"There is no ambiguity in the statute or process," Napper said.
It was also revealed that Fontes's signature-match process in the Elections Procedures Manual unlawfully "contradicts the plain language" of the state law by permitting signature comparison with documents that have "nothing to do with the act of registering."
"RITE will build on this victory to continue to fight in court for elections that are administered according to democratically enacted laws, not illegal partisan commands. This is a huge victory toward securing the elections that Arizonans deserve, which are elections they can trust," Derek Lyons, president and CEO of RITE, said.
Arizona MAGA firebrand Kari Lake, who allegedly lost to installed Democrat Gov. Katie Hobbs in a 2022 race marred by machine failures and voter suppression, lauded the RITE court victory.
It's not about vindication for me. It's about justice.

I don't need to be proven right. I KNOW I'm right.

I'm here to help give the people of Arizona their elections back.

This ruling was a huge victory. But the battle's not done. https://t.co/0FOQRLKUQa

— Kari Lake (@KariLake) September 6, 2023
Headline USA's Mark Pellin contributed to this report.