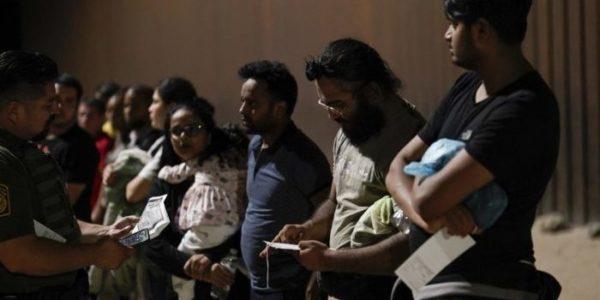 (Mark Pellin, Headline USA) Illinois Democrat Gov. J.B. Pritzker became the second sanctuary city enthusiast in as many weeks to push policies that could see illegal aliens snatching up jobs that otherwise might have gone to American workers.
Faced with an onslaught of illegal immigrants similar to what southern border states suffer on a regular basis, Pritzker said he wants to facilitate ways to put illegals to work on farms across the state.
"The best way for us to manage through this lengthy crisis is to tap into the extraordinary value that immigrants bring to our workforce," Pritzker said during a Wednesday news conference, IPM News reported. "We have the jobs. We have the people. We just need authorization from Washington."
Cities across Illinois, most notably the far-leftist, crime-ridden Chicago, have seen their budgets, resources and accommodations stretched thin thanks to the sanctuary city policies the state's Democrat leaders have embraced. Residents and taxpayers have increasingly been forced to bear the brunt of the burden, as upwards of 13,000 illegals have descended on Illinois. Nearly all of the new arrivals are not legally authorized to work in the United States.
Pritzker, along with Chicago Democrat Mayor Brandon Johnson, in a letter this week urged Biden's Department of Homeland Security to allow Illinois to sponsor illegals and expedite their work permits.
The proposal raised concerns for some state lawmakers about how farm owners would be able to police who was coming on their properties.
"There is nothing set up for this to work," state GOP Rep. Charlie Meier told The Center Square. "The programs that we have that we use are vetted. We know who is coming, and we have some background on them."
Even though Meier owns a farm and conceded it needed workers, he couldn't support using illegals to fill the spots.
"The ones that we have here working, a lot of farms use, and we need workers," Meier said. "It seems like you should have to come legally into this country to do that. That's my opinion on that."
New York Democrat Gov. Kathy Hochul, whose state has faced similarly crushing impacts from a flood of illegals, earlier this week announced a jobs program for illegals and asked the Biden administration to give work authorization to the 100,000 illegal immigrants that entered the state. The request came as more 380,000 New York citizens are unemployed.
Similar to Hochul and Democrats around the country who have found their sanctuary city policies implode in their own backyards, Pritzker and Johnson want federal taxpayers to bail them out of their mess and policy changes to cover their shortcomings.
"Let me state this clearly: The city of Chicago cannot go on welcoming new arrivals safely and capably without significant support and immigration policy changes," Johnson said, according to IPM.
Mark Pellin is an editor at Headline USA. Follow him at twitter.com/sabrepaw70.